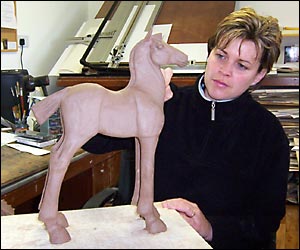 IT'S APTLY named 'Wintertime' and a major showcase of design talent in the county got a thaw just in time for last night's launch in Ramelton.
All the county's leading artists were there and their work will go on display at the town's Heritage Centre and will include the works or artists, designers and craftspeople – in jewellery, textiles, woodwork and ceramics.
The exhibition was officially launched at a wine reception last night by Michael Tunney, CEO of Donegal County Enterprise Board who praised the efforts of all concerned in providing jobs for the county.
The three-day exhibition also includes a fashion show featuring the work of Liam Grier on tonight, Saturday, at 7pm.
Donegal Designer Makers was established just last year by members of the Donegal Crafts Guild with the objective of promoting the work of local designers and crafts workers across the county.
Led by brilliant jewellery-maker Hannah McGuinness, the group now has more than 30 members.
And in these troubling economic times, there is the opportunity to grow.
The winter exhibition includes work from Marina Hamilton, a sculptor and painter best known for her equestrian sculptures – good enough to be owned by motormouth airline executive Michael O'Leary and the brilliant film director Jim Sheridan.
Brian McGee, the well-known ceramic artist, is also displaying his work as is Shane Houston, owner of Chic-Hens, who is exhibiting his new range of bird houses, along with new childrens' playhouses.
Also showing at Wintertime will be 'Alice and Eve', a new collaboration between artists Laura Buchanan and Helen Scott, and Liam Logue, the 2010 Crafts Council of Ireland 'Student of the Year'.
Other exhibitors include Joanne Quigley of Mucky Daisy; Koko designs; jewellery designer Emer Kelly; artist Fiona Higgins; Rathlin Knitwear; contemporary Irish furniture designers Made with Wood; hand-woven tweed by Eddie Doherty; and furniture design from Noel Cronin of WORC studio.
Designers and crafts people throughout the county are encouraged to apply for membership of the group, which has ambitious plans for the promotion of creative and artistic design work in the north-west.