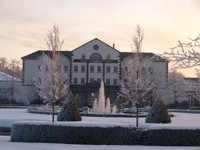 Like many of us we all have a favourite hotel or resort that we go back to again and again. Maybe it brings back memories of the children growing up, the rooms were spectacular, the service was fabulous or the food was amazing.
As a travel journalist it will be no surprise to you to know that I have visited many countries and stayed in countless hotels. Some have been dreadful, like an apartment I rented in Barcelona for the Spanish Grand Prix a couple of years ago. The shower cubicle was outside on a dilapidated balcony overlooking a dump, crack dealers we in the apartment above and prostitutes were working all night long in the rooms below.  Then I have been to some spectacular hotels like the Ritz Carlton Grand Lakes resort in Florida or the Water Tower in Chicago, two stunning properties where service, food and accommodation were second to none.
Needles to say we do all love to come home eventually, to set ourselves by the fire have a cup of tea and relax. This month I am celebrating my 28th wedding anniversary, and I like most men, I want to treat my wife for that very special day. So is it off to the Far East or America, maybe a safari in Kenya? No it is not, it's a local treasure that I have visited many times before. As I describe why I keep returning to this majestic hotel and where it is, you will soon see my reasoning for my anniversary staycation in Ireland this year. The Slieve Russell Hotel in Ballyconnell Co. Cavan – a short drive from Donegal –  provides luxury hotel accommodation nestled in 300 acres, including 50 acres of lakes.
This Hotel Golf & Country Club with an amazing Ciúin Spa & Wellness Centre understands that every customer is a truly a special guest. They look after everyone with the same level of expertise and all their guests are VIP's. Located just 90 minutes from Dublin city centre, and about the same from Belfast, your first impression will be wow what a beautiful location. As you arrive at the front door you probably will be greeted by Connor Maguire, apart from being a font of local knowledge, Connor is a wonderful ambassador for the Hotel, come rain or shine he is there smiling to all who cross the door.  As I have experienced every time I have been there, your next impression will undoubtedly be how clean and pristine this hotel is.
The Sieve Russell hotels clearly believes in the saying "you never get a second chance to make a first impression" and boy is the first impression good. Deep red carpets, dark wood furniture, sumptuous sofas and an open fireplace nestled beside a magnificent staircase all go to make this a very impressive entrance.  There is no doubt that Sean Quinn the owner has made this his showpiece hotel and he has entrusted it into the extremely capable hands of Tony Walker the General Manager. Tony knows what customers expect and he knows how to ensure this Hotel delivers excellence at every level.  It's said that sleep is the golden chain that ties health and our bodies together, and that is something that you are guaranteed to get at the Slieve Russell.
This amazing home from home boasts 222 stylish bedrooms, including 19 Suites and 2 Presidential Suites, all of which are impeccably furnished and designed to incorporate every comfort and to ensure a feeling of relaxed elegance. The attention to detail in the rooms is superb and all have TV with digital in-room entertainment and internet access.  Many of the rooms have wonderful views over the golf course and the landscaped gardens, while some corner rooms have balconies – the ideal spot for breakfast or that pre-dinner drink. There is no point having a super location, great rooms amazing spa if the food is no good, and yet again the Slieve Russell boasts not one by three amazing restaurants. The Conall Cearnach Restaurant has established itself as one of the finest restaurants in both Cavan and the North West Region. Under the stewardship of Peter Denny, one of the country's leading chefs, the restaurant has received may coveted awards. Fine dining and excellent service go to make this a real treat for any occasion. If it a little less formality you want then The Setanta Restaurant is the one for you the menu has a selection of exquisite modern European flavours and the high standard of culinary craftsmanship is reflected in the superb selection of creative menus and charming wines. If perhaps you are there for the golf then the Summit Restaurant is the place to choose a light meal alternative whilst enjoying magnificent panoramic views overlooking the  Championship Golf Course.
After you have had a great sleep, enjoyed the wonderful ambiance, had a fill of super food, there is only one thing left to do and that's get some serious pampering. Yet again this hotel ticks all the boxes with the Ciúin spa. Guests can indulge in a range of Elemis treatments for both men and women including an exclusive Ciúin signature facial and Ciúin signature body treatment.  All in all the Slieve Russell is just a wonderful hotel to stay in friendly expertise, with a very high level of service. If you are considering a great place to stay over Christmas then you might want to consider the Slieve Russell Hotel. You can arrive from 2pm on Christmas Eve and enjoy a relaxing day with afternoon tea by the fireside, a refreshing swim or pamper yourself in the Spa.  The Russell Rabbit Kid's Club kicks off with a whole host of activities during the afternoon with kid's tea at 5pm, videos in the evening and a bedtime story for the younger ones.  A welcome drinks reception for adults begins at 7pm with carols; this is followed by a sumptuous dinner. Transport will be available for those attending church services, with hot punch and mince pies to warm you when you return and a sing-along in the Kells Bar. On the big day most of us are woken early so breakfast is available from 7.30am, after which you can enjoy a visit to the leisure centre, a few holes of golf or maybe a stroll in the hotel grounds. Santa arrives just before lunch and together with his helpers he will take time to visit each table. Lunch, will be a specially prepared lavish meal and afterwards laziness is the order of the afternoon with board games in the Pike Suite and afternoon entertainment in the Kells Bar.  St. Stephen's Day is a day for relaxation and the children won't be forgotten.
3 Day Package Rates AdultsDeluxe Room €499 pps
Superior Room €529 pps
Junior Suite €559 pps
Executive Suite €589 pps
Presidential Suite €769 pps
Children
€199 per child (sharing parents room).
€250 per child in own room (minimum 2 children sharing).
Children's rates apply to 4-16 years. Children 3 and under are charged for meals only.
For more information please visit www.slieverussell.ie and tell them you read all about it on donegaldaily.com. There is an Irish proverb that says a good laugh and a long sleep are the best cures in the doctor's book, if this is true and I believe it is, then the Slieve Russell is without doubt the best Doctors surgery in the world.
by: Tim Hedgley