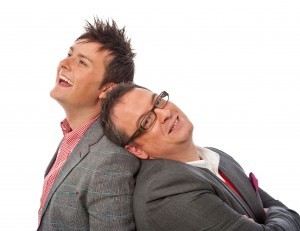 CELEBRITY wedding planning duo Ant and Dick are offering their services to gay couples hoping to 'tie the knot' in April this year when the first Civil partnerships in Donegal will take place.
This week gay couples in the county hoping to have a Civil Partnership can register for their ceremony.
And Ireland's only Civil Partnership experts say they are on hand to help Donegal couples through the planning process.  They are also on the look out for couples planning their big day for the first day in April as they have suppliers on board offering their services for free!
Ant said today: "The world's Press will be watching how Ireland handles the first Civil Partnerships and it could even influence other countries such as America in their decision to allow gay couples the same privilege.
"This really is the biggest thing to happen in Ireland since Divorce and for Ireland to have come so far so quickly since decriminalisation really is fantastic."
Ant and Dick are the only Civil Partnership experts based in Ireland – and say they've already had enquiries from Donegal!
Said Dick: "With a thorough understanding of the industry we are able to ensure that gay couples in Donegal not only find suppliers happy to work with them but they will also negotiate on behalf of couples to ensure the right and fair price is being paid and is within the couples budget."
The national average spend of any wedding is approx €20k and gay unions will be roughly the same, he said.
But he warned: "Businesses should not get carried away with it all, there will be a great interest at the beginning and the initial influx of couples will most likely be older couples who have been together many years and want to cement their relationship legally for next of kin and financial reasons.
"Then the figures will drop, it will be at least three years before a trend can begin to appear and it could take up to ten years for the 'normalisation' to really take hold.
"Until now gay men and women pretty much accepted that getting married wasn't an option when they came to terms with being gay, so now that they can enjoy a Civil Partnership it may take some time for that option to sink in and for it to become a normal expectation for gay couples."
The gay wedding planners are at  www.antanddick.com.
ends