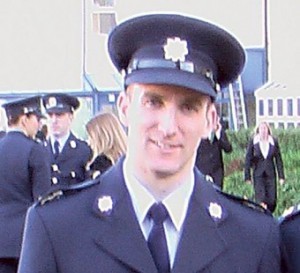 The family of killed Garda officer Robbie McCallion broke down in tears in court yesterday as the man accused of his manslaughter was found not guilty by a jury.
Jamie McGrenaghan breathed a heavy sigh of relief as the jury at Letterkenny District Court in Co Donegal returned with a unanimous verdict.
The verdict was met with sobs and tears by the late Garda McCallion's heartbroken family including his father Bob, mother Nancy, sisters Noirin and Deirdre and girlfriend Marie O'Donnell.
A number of the late Garda McCallion's colleagues including his close friend Sgt Christy Galligan were left visibly stunned by the verdict.
McGrenaghan, 19, of Gortnathraw, Cashel, Kerrykeel had previously pleaded guilty of dangerous driving causing the death of Garda McCallion, 29 and also stealing a car.
The emotionally-charged trial, which lasted almost three days, ended when the jury returned with a verdict after two and half hours.
During the trial the court had heard how the accused struck Garda McCallion, 29, in the early hours of March 26th, 2009, after himself and another man had stolen a car at Tara Court in Letterkenny, Co Donegal.
The Garda, a talented footballer who played with his native Mayo, died in Beaumont Hospital in Dublin a few days later on April 7th.
McGrenaghan's defence team had argued that he panicked on the night of the tragedy and was merely trying to escape.
Letterkenny Circuit Court heard how McGrenaghan and friend Cathal Dunleavy had been drinking in several pubs in the Fanad and Kerrykeel areas before driving to Letterkenny.
They went to see a car which was for sale at Tara Court but while there spotted another car, a white Toyota Corolla, which Dunleavy decided to steal.
The men returned later at 4am in McGrenaghan's Peugeot car and took the Toyota Corolla car.
However as they tried to leave the housing estate, they were met by three Gardai.
The Gardai noticed the door of the Corolla car was damaged and went to block the road.
McGrenaghan, who was behind the Corolla in his own car, immediately reversed back up the road and began revving is engine.
He then drove at the patrol car but veered to the left hitting the patrol car, the Corolla and sent Garda McCallion through the air and into a nearby garden.
He tried to run away but was caught by Garda Shane Lavelle.
After being arrested McGrenaghan admitted he had run down Garda McCallion but said he did not mean it.
Before sending the jury out to consider their verdict Judge John O'Hagan had warned the 12 person jury that they could not change their minds once a decision was made.
He also said that, while it was tragic, the fact that the victim was a Garda should not be taken into account.
"You should be sure it was the relatively right thing to do. You cannot say later that "Oh my God what have I done"'
"There is tragedy on both sides and nobody can mend that. But you are asked to ask yourself if there was a high degree of negligence that led to manslaughter.
"Don't be carried away by the fact that he was a Garda. You must look at it in a cold and a calculated manner," he said
Immediately after the verdict was delivered the court was told that just weeks before he hit Garda McCallion, McGrenaghan had been involved in a number of burglaries between February 26th and 27th to which he then pleaded guilty.
He will be sentenced on Friday next, February 11th.