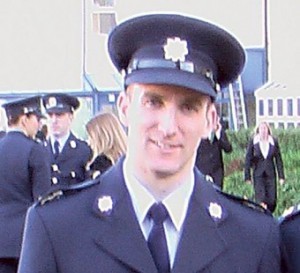 GARDAI who served with killed Garda Robbie McCallion are today devastated after his killer was cleared of manslaughter by a jury in Letterkenny.
They are still stunned that a jury cleared cop killer Jamie McGrenaghan of manslaughter – even though the crime carries the same sentence as that of the one he admitted to: dangerous driving causing death.
A judge will decide next week what sentence is appropriate for the latter crime – he will impose a mandatory five year driving ban.
But the sentence for causing death by dangerous driving could be anything from a fine to life imprisonment.
That is now in the hands of an infallible judge.
Today a Garda who knew the dead officer told us: "It is still hard for me to talk about Robbie, he was just the best guy ever, just brilliant.
"I still can't believe he is dead.
"I have to believe in justice but I find that very very hard. As a guard I try my best to prevent crime, detect crime and bring criminals to justice but this has knocked my faith in the justice system.
TELL US WHAT YOU THINK info@donegaldaily.com