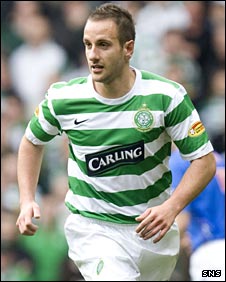 FINN HARPS 1(Cowan 86)CELTIC 4(Juarez 51, Murphy 55, Forrest 65, Carey 83)
CELTIC got John Kennedy's testimonial weekend in Donegal underway with a comfortable 4-1 victory against Finn Harps in Ballybofey.
Efrain Juarez, Daryl Murphy and James Forrest struck in quick succession early in the second-half before Graham Carey sealed the win on 83 minutes.
Substitute Keith Cowan scored a consolation goal four minutes from full-time but it was too little too late for the home side.
The Hoops lined up with a mix of first-team regulars and graduates from the Under-19s side and posed an attacking threat from the start with Murphy hitting the side netting less than two minutes in.
Carey, who was playing on the left wing in the first-half, came close when he tried to convert a free-kick just outside the box on 18 minutes but saw the ball go just over the bar.
It was one-way traffic for the first-half with most of Celtic's play going through Paddy McCourt in the centre of midfield.
But it was James Forrest and Niall McGinn who linked up well down the right and created most of the Hoops' chances.Forrest came close on three occasions in the first spell, with an effort coming off the post on 25 minutes before two chances went wide of the post.
Finn Harps came out looking stronger after the interval but it didn't take long for the Hoops to put them on the back-foot again.
Juarez was on hand to pounce on a lose ball after Paddy McCourt cracked the ball off the post and knocked home the opener on 51 minutes.
And four minutes later Murphy doubled Celtic's lead from close range, and despite Finn Harps' desperate attempts to clear the ball off the line, the linesman confirmed it went over.
Forrest, who was enjoying a productive afternoon, finally found the net just after the hour mark.
The winger did well to round the keeper before driving a low shot just inside the near post, extending Celtic's lead to 3-0.
But the visitors still had more to offer and on 83 minutes Ryan Conroy crossed the ball in for Carey who half-volleyed a spectacular effort from 16-yards, extending the Hoops' advantage.
Four minutes from time, though, Finn Harps bagged a consolation goal when Cowan slotted the ball past substitute keeper Nick Feely at the far post.
CELTIC: (4-4-2) Cervi (Feely); McGinn, Hughes (Toshney), Loovens, Conroy; Forrest, Juarez, Bagshaw (Lowdon), Carey; McCourt (Brennan), Murphy Subs not used: Williamson
Man of the Match: Niall McGinn