DONEGAL supermodel Faye Dinsmore has proved she is no 'dummy' after signing up to become the world's first mannequin model.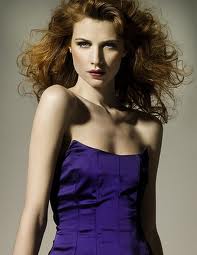 Hundreds of life-size copies of the Ballintra woman will be placed in Zara and H&M stores across Europe to model new lines of fashion.
Faye, 23, will also become the first model ever to have a waxwork of herself placed on display at the National Waxworks Museum in Dublin.
With more than 250,000 friends on Facebook, the Donegal woman loves nothing better than coming back to her parent's Donegal farm.
But with six sisters and seven brothers, Faye admits she doesn't get any preferential treatment when she gets home.
Although since shooting to stardom on the catwalks of Milan and Paris, she does admit her success has had a strange affect on her dad.
"I know find him occasionally flicking through a copy of Vogue which is a bit weird," she laughed.
Faye appeared on last weekend's Late Late Show where she spoke about her meteoric rise to fame.
Ends