IT'S not often that Donegal people can get to view a real naval vessel up close and personal.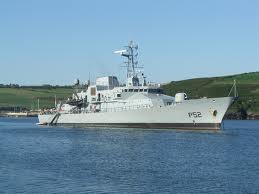 But judging by the huge crowds who flocked to Rathmullan yesterday, they should do it more often.
The LE Niamh has pulled in to port in the Swilly and the vessel will be again open to the public from 2pm until 5pm today.
Staff on the ship will also give a brief on the workings of the ship and what their role is.
Executive officer of the LE Niamh, Martin Terrant, says it's not often that the navy throw open their ships tot he public and advises people to come along now they have been given the chance.
"We don't do it as often as we used to. But we are in Rathmullan and we will be giving people a tour of the ship and we will show them the guns and what our role is," he said.
Ends
Tags: