The Donegal Courts system is to be further propelled into the 21st century with the installation of video links for giving evidence.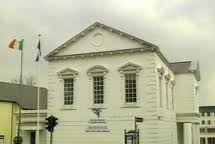 The new system, which will be up and running at Letterkenny Circuit Court shortly, will enable prisoners to give evidence from Castlerea Prison in Roscommon.
Currently prisoners have to be taken the 230 mile round trip accompanied by two prison officers for court appearances which can last only a matter of minutes.
The new link will mean a saving to the tax-payer as well as valuable time for Gardai and Prison officers.
The courthouse in Letterkenny is already equipped with flat screen television screens which will be able to display the video-link.
At present the television are used when CCTV footage needs to be shown relating to criminal cases.
Ends