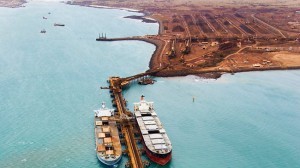 FRIENDS and former colleagues of Burtonport man Shaun McBride, who died in a tragic work accident in Australia last weekend, have been posting heart-breaking tributes to him.
The 28-year-old died when scaffolding he was working on at an industrial port in Dampier in Western Australia collapsed.
Arrangements are being made to bring his remains home to Co Donegal.
Fellow workers of Mr McBride are devastated by his death which is being investigated by safety officials in Australia.
In one tribute on an Australian website, a friend says: "I worked with Shaun for a number of years – he was an absolute gent, and one of the nicest guys you could ever have the pleasure of being in the company of. He will be sorely missed. RIP Shaun."
Another wrote: "Absolute stand up fella, only knew Shaun for a few years but a hell of a nice guy, absolute legend. terrible news, condolences to the family."
And a Perth-based wife of one of Shaun's colleagues wrote: "My partner works on this site too and it has been a sad few days for all the boys involved. RIP Shaun and Condolences to his family. such a sad and very unfortunate tragedy."
Tags: