A Donegal man has pleaded quilty to charges relating to an incident in which an American woman was mowed down and left in intensive care with severe head injuries.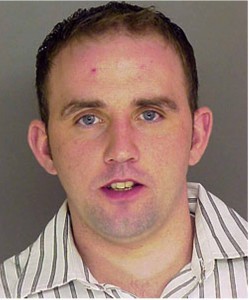 Damian Crossan, 28, of Trentagh, was hauled off a plane moments before it was due to take off from John F Kennedy Airport in New York bound for Ireland.
Now following a lengthy investigation Crossan, who had been living in the US for five years, has admitted the charges and will be sentenced on July 11th next.
He faces two separate charges and if found guilty could go to jail for seven years for each offence.
Police chief Michael Chitwood confirmed that the Donegal man had admitted his car had hit a woman on February 2nd last.
The woman Jamie Timlin, was hit with such force by the car that her shoes flew off while she was sent flying through the air.
She also suffered devastating injuries and remains in a critical condition in hospital.
As well as broken hips, Ms Timlin, 32, also suffered numerous facial fractures and bleeding on the brain.
Crossan has been charged with aggravated assault and related offences following the incident at Upper Darby, near Philadelphia on February 2nd last.
Police Chief Chitwood credited the Delaware County Daily Times newspaper with helping to solve the hit-and-run.
"Apparently, Crossan was looking in the paper every day to see what was being said," Chitwood said. "Tuesday night he saw it online and immediately got a ticket for Ireland. The quickest one he could get was out of JFK.
"He drove to New York and parked his pickup truck in the long-term parking lot of JFK."
According to the affidavit, the truck was located in the lot and showed signs of front-end damage consistent with an accident.
It had a cracked front bumper, cracked turning signal light and red-paint transfer.
"As a result of the story, we received an anonymous tip about the hit-and-run naming Crossan as the operator of the truck," Chitwood said. "We were able to track down the owner, that eventually led us to his girlfriend who gave us the probable cause we needed.
"Apparently, the night of the accident, Crossan was in a bar, had a fight and left. When he got home, he told her he hit someone by the Acme, which is near where she was struck."
According to Chitwood, police notified the Department of Homeland Security and the Port Authority of New York of the warrant for Crossan's arrest and his intention to flee the country.
"Luckily, we got him before the plane took off," Chitwood said. "It was scheduled to depart when they got him."
"We faxed the warrant and Crossan confessed," Chitwood said. "He admitted to hitting someone, didn't know if it was a male or female, but didn't want to go to jail."
"We had absolutely nothing before receiving the tip call," Chitwood said. "Once again, our relationship with the media and the Daily Times and putting a photo in the paper resulted in an identification and arrest."
Ends
Tags: