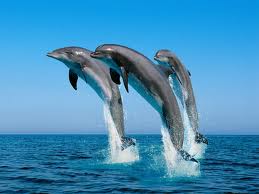 A pod of dolphins had kept a vigil on Shaun McBride's body after his fatal accident in Australia, a priest said yesterday.
Burtonport man Shaun McBride died in a tragic accident less than two weeks ago in Dampier, Western Australia, when scaffolding collapsed into the water beneath him.
He was laid to rest after a funeral Mass in St Columba's church in Burtonport yesterday.
His mother, Sylvia, said the incredible scene which rescuers witnessed had a special poignancy as her son had a huge attachment to dolphins as a young child.
He had only arrived in Western Australia six weeks before his death.
Speaking ahead of the funeral, Perth-based priest Fr Joe Walsh said the family had found comfort when he told them about the dolphins' remarkable vigil.
Fr Walsh said: "We've learnt that a few hours after the accident when divers went to retrieve his body, they saw a big pod of dolphins swimming around him.
"And there was one dolphin that was using its nose to try to lift the body up to the surface.
"But it wasn't able to do so because the body was caught up in the scaffolding."
Tags: