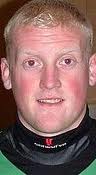 RAMELTON goalie  Conrad Logan is on the move again – this time to Rotherham United.
The 25-year-old has signed on a six month deal from Championship side, Leicester City.
The former Swilly Rovers player moved to Leicester City in 2004. He has appeared in over twenty games for the Foxes and has also had loan spells with Boston, Stockport, Luton and Bristol Rovers.
Three years ago Conrad was on loan with Stockport and helped them win the play-offs to get into League One and he says that he'd like to help Rotherham do the same.
"I'd like to think I know what this league is about and what it takes to get out of it," he said, "and hopefully I can do that here.
"It's important for me to get out and play games. Rotherham are very ambitious and so is the manager, who I've been impressed with.
"He is trying to do everything the proper way and all the talk is about getting promotion. I am looking forward to working with him.'
Conrad added: "Since I've come here all the talk has been about getting promotion and you want to be involved in that but, for the short term, I'm just looking for the six months but we'll wait and see what happens from there."
Conrad is working with Andy Dibble, the goalie coach at United and said: "He's had a good career and he's coached at good clubs too and I'm really looking forward to getting to know him a bit better and working more with him.
"I'm feeling fitter than I've ever felt and I'm really looking forward to playing some more games and, hopefully, being part of a successful team."
Tags: