An 81 year old West Donegal man charged with dangerous driving causing serious harm has been acquitted after a jury heard he passed out from taking blood pressure tablets.
William Barr crashed his car killing his wife and putting a little girl in a wheelchair after a horrific crash in Dunlewey in 2008.
A jury at Letterkenny Circuit Court yesterday found that Mr Barr was not in control of his car when it crashed in Dunlewey in May, 2008.
Mr Barr's defence team claimed he had fainted at the wheel as a result of taking blood pressure tablets and that he was automatous during the crash.
The horrific crash left 4 year old Noirin Nic Gairbheith in a wheelchair for life after her spinal chord was severed.
Mr Barr's 83 year old wife Maggie also died in the crash.
Expert evidence given by retired Professor of Pharmacology Michael Ryan said it was possible that the drug Biscopine could have caused Mr Barr to faint while driving.
The court heard that Mr Barr was returning from Letterkenny with his wife when the accident occurred.
Mrs Sonia Nic Gairbheith from Gaoth Dobhair told how she came around a bend at Dunlewey to find a Volkswagen Jetta car on her side of the road.
There was a head-on collision and Mrs Nic Gairbheith's car which contained her two children Noirin, 4 and Aodan, 2 was pushed back into a ditch.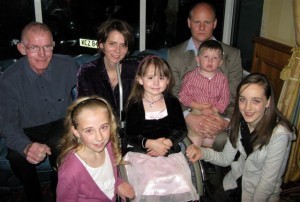 The car caught fire and the mother and two children had to puled from the car by passers-by moments before it was completely destroyed.
Mr Barr said he could not remember crashing and only remembers coming around at Letterkenny General Hospital.
The court heard how Mr Barr had been on five different drugs to keep his blood pressure under control as he had suffered from hypertension and had cardiac trouble.
Mr Barr, of Middletown, Derrybeg, had been put on the medication by his GP Dr Anthony Delap and had suffered a number of fainting incidents.
His dose of Biscopane had been increased from 10mgms to 15mgms and this may have contributed to him passing out at the wheel, said Professor Ryan.
Professor Ryan said this was the only drug which could have caused him to faint and lose control of his car.
Barrister Peter Nolan said there was no other explanation as to why Mr Barr's car veered more across the road in a straight line.
"He has a clean driving license, the car was mechanically sound and the driving conditions were good.
"Something catastrophic happened on that day and the only explanation is that Mr Barr fainted. That is what happened," he said.
However Barrister for the State, Ms Patricia McLaughlin challenged the evidence of Professor Ryan and said advice given to patients taking Biscopine is that it was not common for them to faint as a result of taking the medication.
Judge John O'Hagan sent the jury out and told them they had to first consider if Mr Barr was automatous or that he was not in control of himself when his car crashed.
If they could not find this they would have to consider if he was guilty of dangerous driving or said they could also consider a charge of careless driving.
The jury of seven men and three women took just fifteen minutes to return the 'not guilty' verdict in accordance with the claim that Mr Barr was 'autonomous.'
Judge John O'Hagan said "This was an extremely harrowing case on both sides and two people have been scarred forever."
Speaking after the case Barrister Peter Nolan said "This is a landmark case which will have ramifications for both the medical and legal profession."
Ends
Tags: