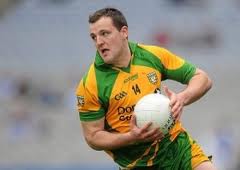 DONEGAL captain Michael Murphy is fit to start against Kildare in the All Ireland Senior Football Championship quarter-final at Croke Park on Saturday.
An estimated 15,000 Donegal fans will be winding their way on the roads to the capital from first light on Saturday as excitement builds to the clash with Kildare.
And skipper Murphy has shaken off a hamstring injury to start at full forward in what promises to be a pulsating game.
There was more good news as both Rory Kavanagh and Kevin Rafferty have shaken off injuries. Leo McLoone has also recovered from his broken eye socket following a controversial club match, though he is unlikely to start on Saturday.
Donegal manager Jim McGuinness is warning fans that Donegal face a very tough game against a Kildare side packed with the experience of playing in quarter finals for the past four years.
"They haven't lost a game in the qualifiers and have been in the last four All-Ireland quarter finals," said Jim.
"They have a great deal of experience at this level. There is no doubt that whatever we do, they won't be fazed. They will do what their manager Kieran McGeeney demands of them.
"Croke Park is like a second home to them and it is a tough draw for us, but we in the Donegal camp are all looking forward to the match."
But the Donegal manager knows the Donegal fans could play an important part this weekend.
"The atmosphere will be electric, no doubt about that," he said.
"We were delighted with the level of support we received in the Ulster final against Derry and I think there will be many more people behind us at Croke Park.
"This will give the players an added incentive to reach an optimum performance but Kildare will also have massive support."
Captain Murphy says the team have settled down again after their first Ulster title in 19 years.
"Hopefully winning the Ulster Championship will stand for us. We have been on a high but we settled right back into training and there is a good positive atmosphere," said the Glenswilly man.
"But we're looking forward now. We don't want to dwell too much on Clones when there is so much more now at stake."
Wise words….
Tags: