Hundreds of people turned out last night to support heartbroken father Joseph Colhoun.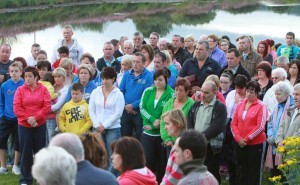 Friends and neighbours gathered near Lifford Bridge close to where Mr Colhoun's son David went missing on May 22nd last for a memorial vigil.
An emotional Mr Colhoun told people how he was as determined as ever to keep looking for his son.
Meanwhile police have privately told Mr Colhoun that they do NOT believe his son was swept out to sea if he entered the water.
The main theory now is that David's body could be snagged in a deep pool in the river.
Police are drafting in a number of divers in the coming days.
Mr Colhoun said he is also hoping to have a number of other divers in the river in the coming days.
Again Mr Colhoun said he was appealing for anyone who could help in any way to come forward.
"We have had tremendous support and I can thank people enough. I wouldn't even know where to begin.
"But I would like to continue to ask people for support. I need as many divers in the water as we can get.
"I feel we might have missed him and if we can go back and check those places again, we may get him," he said.
The heartbroken father said he knows he is looking for his son's body now and dismissed any notion that David had fled the jurisdiction.
"I know David is not out there. He is in the water.
"I just need to bring him home now so I can bury him beside his mother," he aid.
Ends
Tags: