A Letterkenny bar owner has said it is only a matter of time before someone is seriously hurt after yet ANOTHER car crash outside his premises.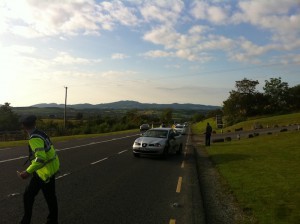 Harry McCafferty, who owns the popular Harry's Bar at Mountain Top, has been calling for traffic-calming measures outside his premises for over a year.
In the latest smash a car and a jeep collided but thankfully nobody was seriously hurt despite obvious damage to both vehicles.
One of the vehicles was turning into Mr McCafferty's premises when it was "t-boned' by another car which was in the overtaking lane coming from Letterkenny.
The Gardai were called and carried out a full investigation of the crash.
There were three children in the back of the jeep but thankfully none of them were hurt.
The latest crash comes a year after another similar crash outside of Mr McCafferty's bar.
The N56 road, which was only upgraded and open two years ago, is one of the busiest into and out of Letterkenny.
He said he feels it is only a matter of time before an even more serious accident.
"The frequency of this type of accident is increasing and I'm quite sure it is literally only a matter of time before there is someone seriously hurt – or worse.
"Anyway, the NRA are not interested in doing anything about it," he said.
Ends
Tags: