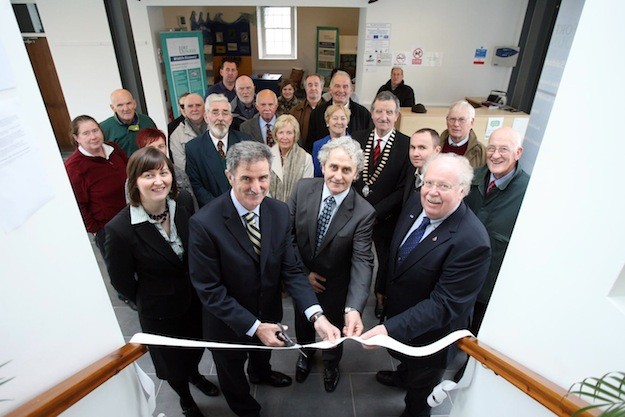 The official launch of the Saldanha Suite at Fort Dunree took place yesterday in Buncrana.
The Saldanha Suite is the most recent addition to Fort Dunree Military Museum and is currently home to the "Rockhill Collection".
International Fund for Ireland chairman Dr. Denis Rooney, said the new addition will greatly benefit the local community.
"I am delighted to join you today for the official opening of the Saldanha Suite her at the Fort Dunree Military Museum. This important resource is a major addition to the Buncrana area and I am sure the local community will benefit greatly from it.
"The vision of the museum has been realised in the suite, which has greatly expanded the range of exhibitions and activities available at the museum. It will stand as a lasting legacy to the commitment of the staff and supporters of the museum and will play an important role in community and economic development in this region."
Dr. Rooney also expressed a collective thanks to the international donors who have supported the work of the International Fund for Ireland for almost twenty-five years: namely, the United States of America, the European Union, Canada, Australia and New Zealand.
Speaking at the launch, John McCarter, chairman of Fort Dunree Military Museum, stated: "Fort Dunree has been closely supported by the International Fund for Ireland since 1997. Over the intervening period of nearly 15 years, the Fund has invested approx €1.1 million in the Fort Dunree project. We are extremely grateful for this level of funding which has delivered much progress and development at Fort Dunree.
"We regard the International Fund for Ireland as a key partner in the overall project. Not only have they invested significant money in the project but have also been an invaluable source of help, information and advice in driving forward the developments at Fort Dunree. The latest addition of the Saldanha suite represents a continued belief in this project by the Fund. "
Fort Dunree is located seven miles north of Buncrana in the Inishowen Peninsula.
The site is situated along the shores of Lough Swilly commanding a majestic view of the Lough and its shorelines.
The Fort Dunree heritage museum complex was originally opened to the public in 1986, and has provided interest for tourists of all ages ever since.
The funding from the International Fund for Ireland has enabled the restoration of former military buildings to create a wildlife exhibition, further military displays, a shop, and a water front cafeteria. Fort Dunree now hosts art exhibitions, wildlife talks and yoga classes.
The "Rockhill Collection" is the result of many years of collection and it displays numerous items of memorabilia belonging to the Defence Forces at home and abroad. It also contains examples of military equipment, uniforms and rank insignia of other nations who have served alongside Irish soldiers on UN, EU, ECMM and NATO led missions
Tags: