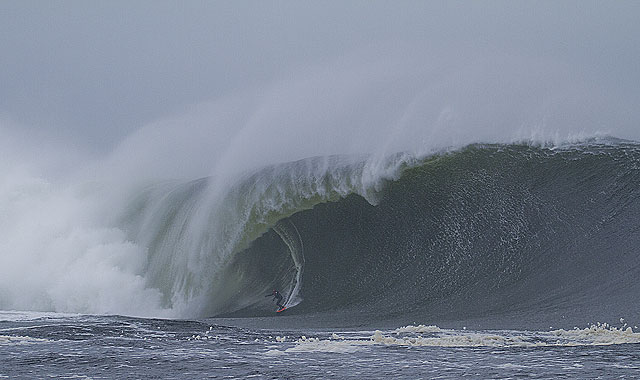 THIS is the incredible moment an English surfer rode a massive wave in Donegal Bay.
Jayce Robinson, from St Ives, can just be seen inside the huge rolling wave.
The daredevil surfer even dislocated his knee – and his board snapped in half – during his efforts on Tuesday.
The 22-year-old professional has just given Donegal a massive tourism boost as well.
He has told various worldwide media outlets: "It was definitely the biggest barrell I've ever surfed."
He went on: "I was a little nervous but I didn't have time to think about it – it's almost like a car crash, you don't know what's happening.
"I was only on it for about 20 seconds then the lip just hit me straight in the back and I went down.
"It's like being in a washing machine and I felt my limbs get pulled all over the place. That's when I felt my knee pop."
His mate – and fellow British surfer – Lyndon Wake witnessed the glorious ride after towing him out to the waves behind a jetski.
"It's always a worst case scenario when your tow partner wipes out," he said.
"Lucky he managed to come out the other side OK and I got him straight back on the jetski."
The adrenalin-seeking pair have been in Ireland for about a month chasing the swells.
"The waves are just amazing and world-class here at this time of year," Mr Robinson said.
"(The wipeout) is not going to hold me back, that's for sure. As soon as my knee is better I will be back out there."
The wave was on the same afternoon a 67-ft wave was recorded off Donegal (See our report yesterday here: https://www.donegaldaily.com/2011/12/13/gigantic-20-metre-wave-hits-donegal-biggest-ever/ The one pictured isn't as big – but it's still massive!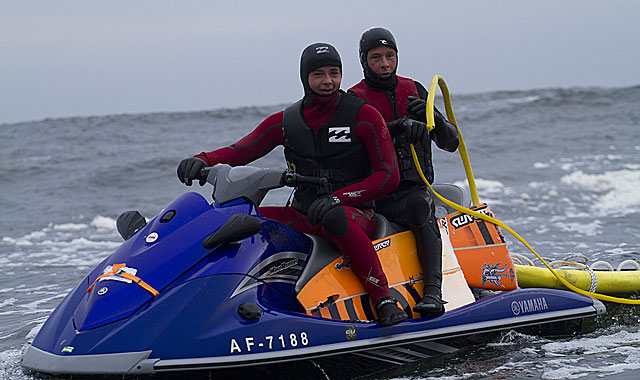 Tags: