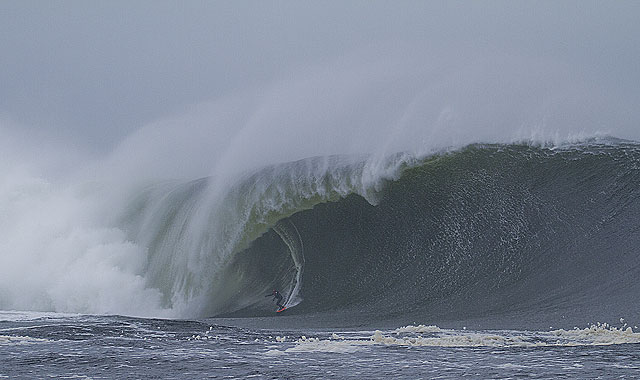 SURFERS are travelling to Donegal from all over the world to catch our waves – and that's because they could be the BIGGEST on the planet.
That could see a massive influx of tourists into the county in 2012.
But one expert has warned amateur surfers to avoid catching the monster rollers.
Al Mennie, from Portrush in Co Antrim, says he has found one spot off Co Donegal which could produce waves of 120-feet – that's nearly twice the 67-foot high wave recorded by Met Eireann earlier this month.
"I look for the same characteristics in Ireland as in the US and Hawaii and now we've found waves in Ireland bigger and better," he said.
"We are doing the same as Hawaii but they're in board shorts and suncream. We are wearning six-millimetre thick wetsuits in water 10C and near freezing air temperatures."
However he is refusing to say where the biggest Donegal waves are, adding: "Some of these Donegal waves are the biggest in the world in my opinion, but they're not for inexperienced surfers."
Our picture shows the incredible moment an English surfer rode a massive wave in Donegal Bay, as we reported earlier this month.
Jayce Robinson, from St Ives, can just be seen inside the huge rolling wave.
The daredevil surfer even dislocated his knee – and his board snapped in half – during his efforts on Tuesday.
© 2011 donegaldaily.com, all Rights Reserved
The copying, republication or redistribution of donegaldaily.com Content, including by framing or similar means, is expressly prohibited by law.
Follow us on www.twitter.com/donegaldaily
Follow us on www.facebook.com/donegaldaily
Sell anything on www.donegaldailyclassifieds.com
Tags: