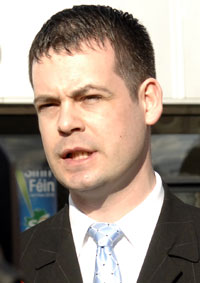 DONEGAL South West TD Pearse Doherty has heavily criticised the Government's Jobs Plan, telling RTE's 'Prime Time' programme that the figures didn't add up.
Deputy Doherty said he agreed with some of the plans put forward by the Government but said targets for 100,000 new jobs had been "plucked from the sky."
"There is no documentation to show where these jobs will come from," said the Sinn Fein TD.
"There are no real targets. This was a pre-election promise so they had to come up with something and they had to come up with 100,000."
He added: "What we have is a massive forest fire and this government has landed with two buckets of water."
The Action Plan for Jobs aims to get 100,000 people back in work by 2016 and another 100,000 by 2020. There are 270 different initiatives – with Opposition parties claiming they Coalition is re-hashing old initiatives.
Earlier Taoiseach Enda Kenny hit back at Sinn Fein claims and said it was "daft" of Gerry Adams to ask how many people would be taken off the dole in the next year through the schemes.
"That's like saying how many seagulls flew over the Phoenix Park in the last three weeks," the Taoiseach said.
"This is a daft question. What you need to do is create an atmosphere and opportunity where business can flourish."
© 2011 donegaldaily.com, all Rights Reserved
The copying, republication or redistribution of donegaldaily.com Content, including by framing or similar means, is expressly prohibited by law.
Follow us on www.twitter.com/donegaldaily
Follow us on www.facebook.com/donegaldaily