The new Airticity League season gets underway this weekend, and in terms of the First Division, Finn Harps have drawn the short straw having been given the toughest possible opening day fixture.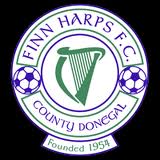 Harps will make the long trip south on Friday (kick-off at Jackman Park at 7.45pm) to face Limerick, the red hot favourites to win this season's First Division title.
The has been plenty of comings and goings at Finn Park during the closed season as Manager Peter Hutton and Director of Football Felix Healy put together a squad which both hope will see a change in fortunes for Harps after three disappointing seasons. It will be a first full season in charge for the Derry duo.
And while the likes of Marc Brolly, Packie Mailey and Mark Forker have departed, many new faces have been added to the squad. Adam Clarke (Limavady United), Ciarán Greene (Glencar Celtic), Hugh Carlin (Dergview), Thomas McMonagle (on loan from Derry City), Darragh Healy (Sligo Rovers), Paul McVeigh (Fanad United) and Thomas McBride (Institute) have arrived.
With so many new faces arriving, Harps have had a mixed bag of results in friendlies in the lead up to the new campaign. "Pre-season has been fine," said Harps Director of Football Felix Healy. "We've had the usual problems of training facilities available and pitches which are extremely heavy at this time of year. Although I have to say that everyone in the County has been tremendously helpful, particularly the good people at Glengad and Rathmullan. Their hospitality was first class."
So, what does Healy see as a target for Harps in 2012? "We haven't really set any goals as such. Obviously we would like to achieve better results than last season but we will just take each game as it comes. I'm not sure how the eight team league will turn out, only time will tell. However, I do expect it to be very competitive indeed. The other proposals doing the rounds wouldn't have represented good news for us at Harps."
"From our perspective, we have assembled a relatively young side. How they gel together and how quickly it can be done will be pivotal for Peter and I," continues Healy. "Confidence is vital for any side. Therefore the quicker we can amass points the better we will perform this season."
Harps and Limerick also played the opening match of last season, although that game took place at Finn Park. Then, like now, Limerick were many people's favourites to finish top of the pile. "We couldn't have asked for a tougher examination in our first game but we will be going there hoping to make it extremely tough for them too," says Healy. "Obviously, everyone expects Limerick to be the dominant force in the division this year and I wouldn't disagree with that. As for everyone else, a number of clubs have appeared to have strengthened but only time will tell."
Harps will have to plan without the suspended Stephen O'Donnell on Friday, while Manager Peter Hutton will serve a one-match touchline ban.
~~~~~~~~~~~~~~~~~~~~~~~~~~~~~~~~~~~~~~~~~~~~~~~~~~~~~~~~~~~~~~~
TEAM NEWS
Suspended: Stephen O'Donnell (1 Match).
Doubtful: None.
Injured: None.
Form Guide (last six league games)
Finn Harps: W-L-L-W-L-L (6 pts)
Limerick: W-W-W-W-W-W (18 pts)
~~~~~~~~~~~~~~~~~~~~~~~~~~~~~~~~~~~~~~~~~~~~~~~~~~~~~~~~~~~~~~~
Previous away games against Limerck
06/05/2007 – Limerick 37 1-1 Finn Harps (First Division)
03/08/2007 – Limerick 37 1-3 Finn Harps (First Division)
08/05/2009 – Limerick 1-1 Finn Harps (First Division)
31/10/2009 – Limerick 3-0 Finn Harps (First Division)
08/06/2010 – Limerick 2-1 Finn Harps (First Division)
20/05/2011 – Limerick 1-0 Finn Harps (First Division)
~~~~~~~~~~~~~~~~~~~~~~~~~~~~~~~~~~~~~~~~~~~~~~~~~~~~~~~~~~~~~~~
Finn Harps Goalscorers Pre-Season 2012
Blain Curtis – 2
Kevin McHugh – 2
Barry O'Mahony – 1
~~~~~~~~~~~~~~~~~~~~~~~~~~~~~~~~~~~~~~~~~~~~~~~~~~~~~~~~~~~~~~~
Finn Harps Pre-Season Results 2012 (Harps goalscorers in brackets)
24/01/2012 – Limavady United 1-0 Finn Harps
07/02/2012 – Derry City 3-0 Finn Harps
14/02/2012 – Crusaders 1-0 Finn Harps
19/02/2012 – Dundalk 1-0 Finn Harps
22/02/2012 – Dergview 0-1 Finn Harps (O'Mahony)
24/02/2012 – Cockhill Celtic 2-2 Finn Harps (Curtis 2)
26/02/2012 – Finn Harps 2-0 Buncrana Hearts (McHugh 2)
Tags: