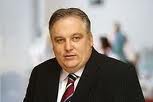 DONEGAL county councillor Frank McBrearty has won a landmark legal action against the AIB over how it invested monies he received as compensation.
The battling Labour Party councillor won a complicated legal judgement over how the AIB managed €1M of his money – €750k from his compensation payment from the State and €250k in a loan given to him by the AIB.
A court in Belfast has found that AIB – operating as First Trust in the North – and its investment arm "engaged in negligent misrepresentation" of the terms of an investment product sold to both Frank McBrearty jnr and his wife Patricia.
Mr McBrearty, the son of Donegal publican Frank McBrearty snr, was the innocent victim of a murder charge in 1996 in a case which led to the Morris tribunal and exposed Garda corruption in the county.
The councillor said he didn't want to comment at this stage on his victory over the bank.
But the Northern Ireland Courts Service released details of the case where the Raphoe couple showed that AIB were guilty of breach of contract and negligence in the investment of €1 million.
They claimed they were promised they "would walk away with the capital amount of €1,000,000 plus €80,000 and that the fund would increase by a minimum of 5 per cent per annum", according to the judgment delivered by Mr Justice McCloskey.
The McBreartys claimed damages of €342,000 – while the AIB sued for the return of its €260,000 loan.
AIB sought to recover loans totalling €260,000, which the bank claimed the McBreartys owed it.
Some €700,000 was invested in two "guaranteed" funds in 2006 with the balance put into a "low to medium risk" fund.
Mr Justice McCloskey ruled it "was a term of the contract" between the McBreartys and the AIB (UK) and independent financial advisors (AIB) that the latter would secure a 5 per cent annual return on the couple's investment and that this would not be overtaken by their borrowings.
He said that, viewed through this prism the terms as set out "had the character of misrepresentations, made negligently, which were plainly intended to – and did – induce the plaintiffs to enter into . . . the investment agreement".
Damages have not yet been measured. The case will be back before the court later this month.
The judge noted that the bank's claim that it was owed €260,000 appeared to be uncontested and that a "balancing exercise" was required.
Cllr McBrearty received €1.5 million compensation in 2005 for wrongful arrest, libel and breach of constitutional rights.