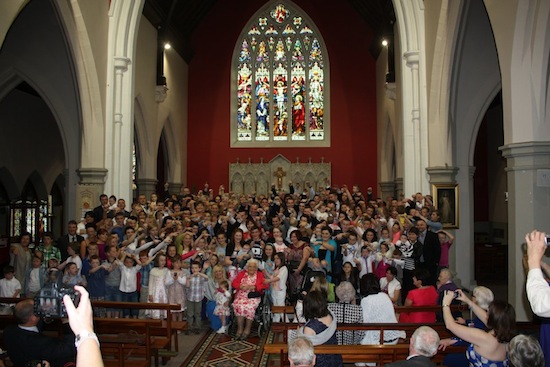 It's not often that Bono drops into your birthday party.
But then again it's not eveyday that you're 100 years old.
Well known Stranorlar woman Annie McIntyre hit that very milestone today and her extended threw her a party to remember which just happened to last all of last weekend.
It was an amazing weekend had by all, from meeting everyone and trying to memorise names, then onto the competitive sports day Saturday where the outdoors fun continued, cousins met up after many years and some met for the first time, then they competed in family relays and obstacle courses, credit to Uncle Seamus McIntyre as his family won the most titles!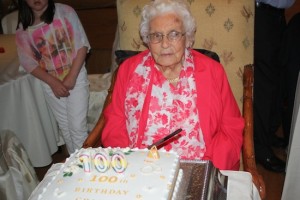 The fun didn't end there, John Duffy ensured that all Annie's children, grand children and great grandchildren all got something to eat and then it was bedtime for the little people and the craic was just continuing for the adults as Liam McIntyre hosted a Mr & Mrs Competition, everyone had to enter by taking a ticket and you could feel the atmosphere was electric as each couple's name was pulled out of the entries.
Up each couple went where Liam Jnr McIntyre and Jason Friel ensured there was no cheating. All of the audience were in hysterics laughing as Liam put the questions to partners, Congratulations to Margaret & ALfie Lunch who won the Mr & Mrs, everyone was a great sport well done to all!
Then it was Liam McIntyre Jnr who kept us all on our toes until the wee hours with a disco like no other you just had to keep dancing all night through. As the national anthem began we knew it was time to dash home, get some beauty sleep as the big day was yet to come.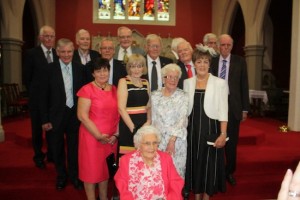 Sunday arrives v early 🙂 which was all good and it was off to celebrate mass for Granny's 100th Birthday!
Everyone gathered in the chapel, cousins, nieces, nephews, aunts, uncles and all of Granny's guests, it was a beautiful spiritual mass in which all of Granny's children played a role in the celebration of mass and those family members that are in heaven were all remembered and prayed for and we were reminded they are all still with us and we hold them close in our hearts every day.
Father McAteer talked about family and togetherness and how Granny is so alive and enjoys spending time with all her family and friends and has always had a keen interest in how everyone is getting on and she keeps up with all her family, she is used to spending time with everyone face to face and loves visitors, he did say however that if her family extends much more he will be organizing her a face book page to keep up with all of them!
Then it was time for photos and that was fun trying to get everyone in the one picture, Granny, her children her 82 great grandchildren, 122 great great grandchildren and 8 great great grandchildren.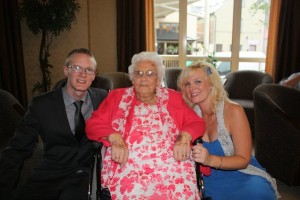 Then it was time for the Donegal match – and we won so this added to the joys! Everyone then enjoyed a fabulous dinner thanks to Tommy Gallen and his team at the Villa Rose. The organizing committee had arranged a full evenings cabaret show which was second to none and was made up of all family members showing their talent.
Edel Duffy presented Granny with a "This is your Life" presentation which began the day Granny was born and moved through the years capturing all the memories of her life and all the moves from station to station with Granddad the Station Master Willie McIntyre, it told us where all 17 children were born and even included photos of past and present, it was out of this world and i don't think there was a dry eye in the house afterwards with heartfelt emotion.
Meanwhile the children were entertained with a magician and then when we got them back on stage we had irish dancing, poetry, beautiful singing all performed by Granny's grandchildren and then some surprises including a skit performed by John Duffy and Kelly McIntyre in "help is there a doctor" – everyone was laughing and then just as we though it couldn't get any more exciting a few surprise guests popped into sing for Granny – "Daniel O Donnell, Bono, Johnny Cash & even Tina Turner who finished up doing the splits all performed by grandchild Mark McIntyre.
Thank you to Kevin Brosnan & Elaine McIntyre who compared for the night and ensured everything ran smoothly and a huge thank you to DJ Liam who wrapped up the night with a great disco finale.
The family would officially like to wish Granny a very Happy 100th Birthday – today is her actual birthday 23rd July! We all are looking forward to 101!!
Tags: