RTE star Daithi O Se has revealed how he almost ended up on Sam's World Tour of Donegal with our GAA stars.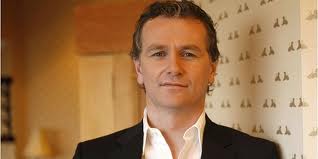 The Kerryman went on the lash with the lads (he says he was drinking coffee) in The Boars Head pub in Dublin and got chatting to Michael Murphy, Christy Toye and Rory Gallagher.
But despite Murphy's best attempts to get Daithi to Donegal, the TV star resisted and admits that he would have felt like Karl Lacey who famously asked during the week as to what day it was.
"There is a tradition that the winner team heads for the Boars Head pub on Capel St the morning after the final. This tradition was started by the Kerry players a few years ago. A Cavan man is at the helm of this house and a man who understands the GAA and an early morning thirst! He's a friend of mine and he sent word when the lads landed. I was drinking coffee and found it very hard not to have a few pints.
"The Donegal lads were in great form as you can imagine. I spend a lot of time talking to Michael Murphy, Christy Toye and Rory Gallagher and I have to say you couldn't meet nicer lads. They are really down to earth and great fun to be with.
"Murphy turned to me at one stage and asked if I'd come to Donegal with the team and we all laughed. He said it again about half an hour later and he wasn't joking. He said that there was one seat left on the bus!
"Christy Toye threatened to put me in a headlock and carry me off! I've a feeling that if I had gone with them I'd be asking the same question as Karl Lacey this morning," he said.
O Se also revealed how he has huge admiration for JIm McGuinness but not just as a football manager but as a father too.
"I really like the way Donegal Manager Jim Mc Guinness took his family out on the field while the team was doing the lap of honour. He even had his young son kick a goal; it's seemed his family was more important than anything and that they were a huge part of the whole thing. The families are often forgotten about in the middle of all the celebrating, even though they have to suffer the most with all the training and so on," he said.
Tags: