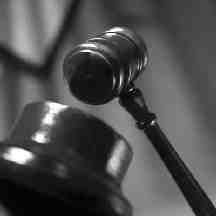 A LIFFORD criminal with 39 previous convictions has been jailed for two and a half years after pleading guilty to assaulting a taxi driver and hijacking his cab which was later found burnt out.
Joseph Colhoun, 30, from Beechwood Grove, offered his "sincere apologies" in a letter to Judge John O'Hagan at Letterkenny Circuit Court.
He said he accepted that he had to be punished for his crimes.
On January 7th this year – a year after the death of his mother – Colhoun had gone on a drinking spree in Letterkenny, DPP barrister Dara Foynes told the court.
At the time his brother David was also missing after falling into the River Foyle.
At 5.30am on the morning of January 8th, Colhoun was with three other men in Letterkenny when they spotted a taxi and waved for it to stop.
Clement Adu, who had just finished his shift and was on his way home, stopped.
Colhoun and another man got inside the taxi and asked Mr Adu to take them to a 24/7 garage, the court heard.
At the Dry Arch complex, Colhoun and the other man went inside the shop, returning a few minutes later and asked Mr Adu to take them to Lifford.
Addressing the court Mr Adu said that Colhoun and the other man appeared friendly.
"He (Colhoun) had bought him me a bottle of water at the garage. I thought he was a very very good man," said Mr Adu.
He asked for €25 up front for the fare to Lifford, but Colhoun had assured him he would be paid.
On the way to Lifford Colhoun and his friend asked Mr Adu to stop near Ballyhooley so they could go to the toilet.
But then Colhoun returned to the driver's side of the door.
"He was hugging me, I thought he was a homosexual," said Mr Adu before he realised Colhoun was stealing his car keys.
Mr Adu was then punched several times in the head, suffering a fractured cheekbone.

He said he pleaded with Colhoun to take whatever he wanted, his money and his possessions.
But Colhoun drove off in Mr Adu's car. The victim was picked up by the side of the road by a passing bus driver who raised the alarm.
The taxi driver said he out of work for four months as a result of the theft of his car which was found burnt out half a mile from Colhoun's home.
He said the insurance company didn't pay out for the full costs of his losses.
Mr Adu also addressed Judge O'Hagan on the issue of Colhoun's state on the night of the incident.
Turning to Colhoun and pointing to him, Mr Adu said: "He is a very very bad person. This was not drink."
He said he believed there had been a plan all along, that Colhoun had initially said he wanted to go to a 24/7 garage and he offered to take him to Mountain Top which was closer but Colhoun had insisted on going to the Dry Arch garage which was on the road to Lifford.
Gardai admitted they wouldn't have caught Colhoun except for excellent CCTV footage at the Dry Arch garage and Colhoun was arrested later that afternoon.
Judge O'Hagan said mitigating evidence on Colhoun's behalf in relation to the deaths of his mother and brother didn't apply as Colhoun had a series of 39 convictions going back to 1999, nine of them for assault.
He told Colhoun that had he been convicted by a jury he would have jailed him for five years for the hijacking.
Judge O'Hagan said the incident had involved "sheer brutality" and he was satisfied the hijacking was planned.
"He was not charged with burning the car and I have to ask why they did this; something they read in the papers in the hope they would hide the forensics," said the judge.
"I do not accept that drugs or drink was a mitigating factor, proved by the fact he was able to drive back the whole way safely to Lifford.
"It wasn't a clever way of keeping his mother in memory by carrying out this particularly offence. But I do accept he has been remorseful for what he has done."
He ordered that Colhoun continue treatment for alcohol addiction in prison and sentenced Colhoun to two and half years in prison on each of the two charges of hijacking and assault, suspending the last six months of the concurrent sentences.
Tags: