Bingo continues in Convoy hall @9 on Tues Lotto results CW,MH,MN,WW Jennifer O Keeffe,Paul Martin,Christine Johnston, Donna Slevin and Sadie Henderson Next week's Jackpot €2200 Lotto available from committee members.
Under age Training continues on Fri evening from 6.30 to 7.30
DIV 2 COUNTY CHAMPS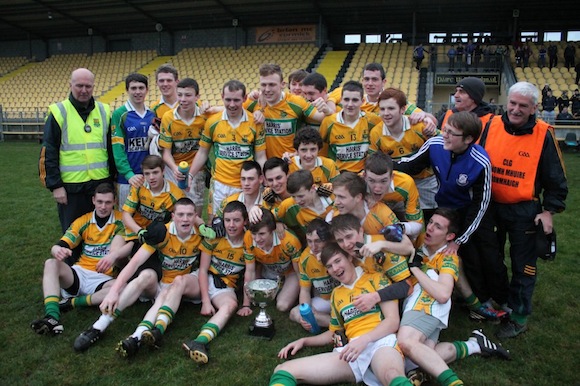 Pride of place this week has to go to our Minor boys who won the Div 2 County Final at O Donnell Park with a score line of 5-11 to 1-13
A super game of football but St Marys didn't have it all their way the first half was very closely contested with both teams battling hard with Naomh Columba going ahead by 4 points to 1 point at one stage but the St Marys lads started to settle into the Game with Goals from Gavin Sweeney and Paul O Leary and points from Ryan Bonner and Peter Blake there wasn't much between the teams going in at the break with St Marys ahead by 1 point 2-04 to 0-9.
The teams battled hard in the second half and with about 10 min to go there was little between the sides and a Peter Blake goal kept the game close St Marys 3-05 to 1-10.
St Marys lads started to push ahead with points from Dean Mc Connell, Peter Blake and Jack Blake and then Raymie Mc Namee scored 2 super Goals and a point from Gavin Sweeney as St Marys ran out the clear winners in the end .
Final Score 5-11 to 1-13
Scorers R. Mc Namee 2-0 P. Blake 1-04 G. Sweeney 1-02 R. Bonner 0-2 , P.O Leary 1-0 J. Blake 0-1D. Mc Connell 0-2
Tags: