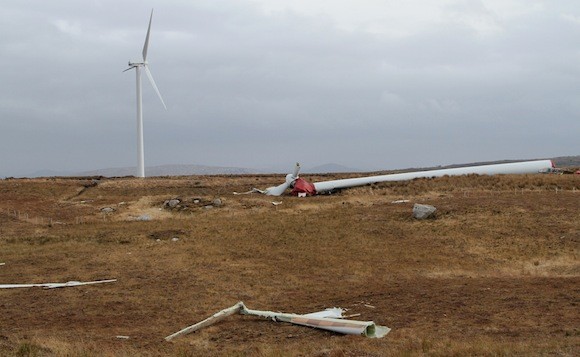 DD EXCLUSIVE: THE Danish company which made the turbines where one collapsed on Friday says it has shut down the remaining windmills as a precaution
In a statement to Donegal Daily, Vestas confirmed the turbine near Maas – between Ardara and Glenties – collapsed at 5pm last Friday in what it called 'very high winds'.
"At approximately 17.00 on Friday 21 March a V52-850KW at Loughderryduff wind farm in Donegal Ireland, collapsed in very high winds. No one was injured in the incident," said the spokesman Matt Whitby.
"Wind speeds at the time had been approximately 25 m/s or 56mph.
"The other eight V52-850KW turbines at the wind power plant were shut down. Vestas' technicians are present at the site and the situation is under control.
"Vestas takes safety extremely seriously. A thorough investigation will be conducted together with an independent third party to establish the root cause of the incident. Until this has been conducted Vestas cannot speculate on the cause of the incident."
However local people are pointing out that the turbine which collapsed is just 50m above sea level on a flat plain in the townland of Loughderryduff.
Proposed turbines for Glenties and Straboy are 30metres higher and on land 300m above sea level.
Yesterday there was a constant stream of cars pulling over to look at the collapsed turbine.
Since Donegal Daily broke news of the turbine's collaspe on Saturday, the story has been retweeted and shared on Facebook around the world – the collapse of turbines is extremely unusual.
Wreckage had been strewn over a wide area.
The site is owned by North West Wind Limited. Some of those involved in the company are included in this document by clicking here:
North West Wind Annual Return 2011 – Mass windfarm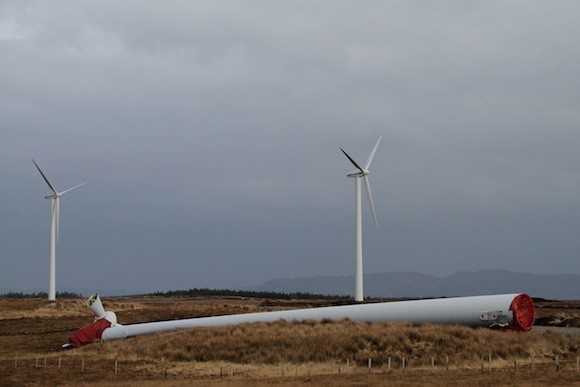 Tags: