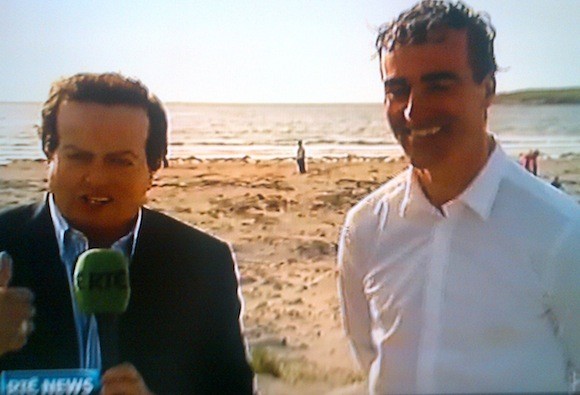 MAYBE we should invite RTE sports journalist Marty Morrissey to Donegal more often – as the sun shone during a live TV interview this evening with Donegal manager Jim McGuinness.
The county manager and the erstwhile hack were on the beach at Portnoo for the live link-up to the studio in Dublin for the Six-One News.
"Jim tells me the sun shines like this all the time," said Marty as the pair discussed this Sunday's Ulster Senior Football Championship clash at MacCumhaill Park.
Of course it does Marty!
On the more serious matter of the match, Jim says his team is ready for the clash of the Ulster titans on the first round.
"Preparations have gone very well for us," said Jim.
"We have got a good run in this year. Last year we had just a two week turnaround to face Tyrone.
"Our preparations have gone really well and the boys know at this stage what it's all about and it's about going out and executing our own game plan on Sunday."
Morrissey asked Jim about relegation to Division 2 of the National League – and the fact that McGuinness has had his All-Ireland winning team together for the first time since the All-Ireland win.
"It's all about the Championship at the end of the day; this is a game that has been on the horizon for a long time," said the Glenties man.
"Tyrone have a very good league campaign under their belt but from our point of view we have been building towards this day and the boys have been working very very hard.
"You want a good run into this (game) and you want to know that the boys know what it's all about and I feel that that is the case."
The RTE sportsman wanted to know how Jim could whip up his team again for another All-Ireland challenge.
Jim revealed the management had "dropped the players back down again" with a view to whipping them back up again.
"Time will tell," said Jim.
"The players are as focused as ever; they are working very hard and everybody knows there's a lot riding on the game and we're just looking forward to it now."
Marty added: "And we're looking forward to it too. Jim tells me the sun is always shining here in Donegal!"
That's right Jim – haven't seen rain in weeks!
Tags: