Bus Eireann has confirmed that the bus route between Letterkenny and Dublin will be fully wheelchair accessible by the end of 2013.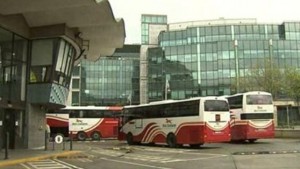 The news has been welcomed by Letterkenny Town councillor Jimmy Kavanagh who has been campaigning on the issue.
"This is great news for wheelchair users.The route between Letterkenny and Dublin is a very busy route, serving the airport and many health services in the capital city, and is widely used by people with physical disabilities," he said.
The absence of a rail service in Donegal means that there is no alternative for many wheelchair users. The route also serves two other counties Tyrone and Monaghan which do not have rail services said Cllr. Kavanagh.
"At the moment wheelchair users cannot travel alone without depending on the goodwill of fellow passengers, and although the Bus Eireann drivers are always very helpful, they are limited in what they can do, without a proper wheelchair lift.
He added tt is also very difficult for wheelchair users to avail of the break in Monaghan to get refreshments or to use toilet facilities, as this involves the hassle of getting off the bus retrieving their wheelchair from the luggage, and re boarding the bus, with the result that many wheelchair passengers don't have any break during the four hour journey.
"I'm delighted that Bus Eireann have now decided to include this route for urgent upgrading to fully wheelchair accessible. I have been working with Deputy Joe McHugh T.D. on the issue and I would like to thank him for his help, I would also like to thank the Town Council for supporting my recent motion on this issue, and the members of the Donegal Irish Wheelchair Association ho highlighted the importance of making the route accessible." concluded Cllr. Kavanagh.
Tags: