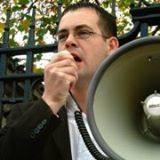 IT has taken decades of lobbying, but west Donegal is to finally get a sewerage scheme upgrade.
Commenting on the progress of the Dungloe, Glenties and Gweedore Sewerage schemes in West Donegal, Sinn Féin TD for Donegal South West Pearse Doherty said: "I recently met with the Director of Services for Water and Environment for Donegal County Council and I enquired as to the progress of these three sewerage schemes in particular.
"I was assured at the meeting that the contractor for the Dungloe and Glenties Sewerage schemes was due to be announced shortly with works due to commence this summer.
"I am also of the view that following submission of the contract documents for the Gweedore Sewerage scheme from Donegal County Council to the Department that a positive outcome is likely which will allow the scheme go to tender by the end of the year.
"I am delighted to see that these schemes are progressing as locals have been waiting decades for the upgrade of the sewerage systems in these areas."
Tags: