Donegal manager Jim McGuinness will meet with Donegal GAA clubs on Friday to try and provide a solution to the yearly problem regarding club fixtures in the county.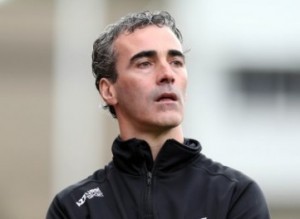 The thorny issue of county players playing club championship while Donegal are still actively involved in the All-Ireland series has again raised it's head again this year following Donegal's heavy defeat to Mayo.
It is reported that McGuinness wants certain assurances before he commits to another year at the helm as Donegal manager, with the issue of club fixtures believed to be one issue he wants assurances on before he commits to managing in 2014.
Donegal county chairman Sean Dunnion believes it will be a good opportunity for both parties to make their feelings clear and hopes a positive solution will come from Friday's meeting.
Donegal supporters will be hoping for a "Good Friday" as nobody wants to see Glenties man step down.
Hopefully a solution can be proposed were club players are playing football throughout the summer regularly as it's not fair on them to only play a handful of games all summer, but it is also imperative that McGuinness has a full deck to choose from when Donegal are in championship action.
Tags: