SOME of the country's greatest living GAA stars have been confirmed in the line-up for a charity football match at MacCumhaill Park to raise funds for the Friends of Letterkenny Hospital.
TV pundits and football legends Joe Brolly and Pat Spillane will be among those togging out for the game.
Th unique charity event on Monday 7th October in MacCumhaill Park in Ballybofey, will see the mighty New York Police Department roll into town to take on the cream of Ireland's GAA Legends as part of the Gathering 2013.
The Football All Ireland is over, and Sam Maguire is back in the capital for the second time in 3 years leaving the GAA diehards in Mayo hungry for another year, but this football match is an ideal bookend for football followers in the county.
This charity football match follows a previous trip by NYPD in 2002 and raising money for charity is an important part of these trips with the NYPD Gaelic Football Club who have helped raised thousands of dollars for worthy charities.
Brian McGarvey, Chairperson of The Friends of Letterkenny General Hospital said: "The Friends have raised more than €4.5m since 1992 to help provide better healthcare equipment and facilities for the people of the North West and this unique event in our 21st year will help raise much needed funds to support cardiac services at Letterkenny General Hospital.
"As everybody knows, a freak flood in late July of this year has cast a shadow over the hospital, but I am confident with the support of the Friends that the Hospital will be bigger and better when it is rebuilt."
Jim McGuinness said he is delighted to be involved.
"Paul organised a football game for the All-Ireland winning team in New York last year and when he first spoke about the possibility of organising the match, I thought it was a great idea as a charity match," said Jim.
"The Friends Of Letterkenny General Hospital had approached me earlier this year to become an Ambassador for them and this event is an ideal fundraising opportunity. The Friends are celebrating 21 years of fundraising in 2013 and I am delighted to support the charity in any way."
The GAA Legends team includes Kieran McGeeney, (Armagh), Eamon O'Hara (Sligo), Fergal McGill (Leitrim) Pauric Dunne (Offaly), Anthony Tohill(Derry), Paddy Bradley (Derry), Peter Canavan (Tyrone), Brian McGuigan(Tyrone) Joe Brolly (Derry), Nudie Hughes (Monaghan), Dessie Farrell (Dublin), Dara O Shea (Kerry), Seamus Darby (Offaly), Colm O'Rourke (Meath), Pat Spillane (Kerry) and local Donegal heros include Martin McHugh, James McHugh, Manus Boyle, John Joe Doherty, Barry McGowan, Brendan Deveeney and Mark Crossan. The Legends team is growing day by day as word of the event spreads from county to county.
A large number of the All-Ireland winning team have also committed to playing on the night including Michael Murphy, Karl Lacey, Colm McFadden, Paul Durkan, Neil McGee, Neil Gallagher, Frank McGlynn, Anthony Thompson and Mark McHugh.
A great football game is always followed by a great post match debate and this game is no different with a great nights craic and entertainment lined up for the Post Match Celebration in Jacksons Hotel. There is an opportunity to meet and chat to the players with light refreshments being served which is followed by a great nights dancing from a host of entertainers including David Craige, Grainne Gavigan, Anne Biddie Deirdre Bonner and Gary Gamble.
For tickets and further please contact the Friends Office on 9104466 or www.friendsoflgh.ie.
Peter McCormack, a NYPD police officer said the NYPD Gaelic Football Team is extremely proud to represent its city in the International Tournament this October in Dublin.
"As part of the Gathering, the NYPD GFC will be playing Tournament matches in Croke Park, Westmanstown Sports Complex and Ballybofey.
"It is with great pride, that I lead our club, as President, in a charity match in my home town of Ballybofey. The NYPD will be teaming up with members of the 2012 All Ireland Champions, Donegal, in a match against a GPA Legends selection featuring Martin McHugh, Darragh O'Se and Joe Brolly. The legends team will led by GPA President, and former Dublin great, Dessie Farrell."
The NYPD Gaelic Football Club was formed in 1990, to keep the heritage alive and raise money for charities.
Said Peter: "Our club has been instrumental in providing financial support to numerous charities, over the last 20 years. Over the last 5 years, on the Football field, our club has been extremely successful, winning the International Police Tournament in 2007, winning the silver medal in the 2011 World Police Fire Games and most recently winning the GPA sponsored Breezy Point Cup several months ago.
"Our motto, "Keep the Heritage Alive" is our Club's main focus, with raising money for worthy charities as our priority goal. We look forward to participating in this charity match in Donegal."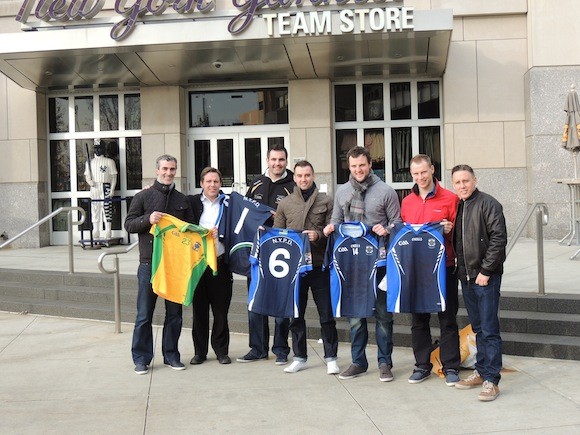 Tags: