A well-known Donegal refuse collector has been told he has a case to answer when he appeared on nine different charges of illegal dumping.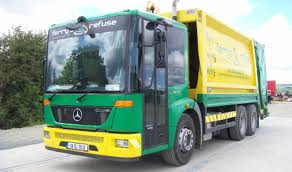 Businessman Jim Ferry appeared at Letterkenny District Court in connection with the illegal disposal of household waste.
The case followed a lengthy investigation by Donegal County Council into illegal dumping at Derryreel, Falcarragh.
Letterkenny District Court heard how officers from the council along with Gardai carried out a surveillance operation on lands belonging to Ferry.
On June 10th, 2010, a large Ferry's Refuse truck was seen dumping a large volume of waste into an open crater.
Upon investigation it was found that more than 1,000 cubic metres of waste had been illegally dumped at the site.
Dearn McClintock, Waste Regulation Officer with Donegal County Council, led the extensive investigation into the incident.
It followed an anonymous tip-off by a member of the public who pin-pointed the dumping location to waste management officers.
The court heard that at 5am Mr McClintock and other officers came across two men dumping household waste into a crater.
When they identified themselves, two men in hi-viz jackets with the 'Ferry Refuse' on it, ran off into the distance and were not apprehended.
This evidence was backed up by various other litter wardens on the scene who were employed by Donegal County Council.
The court was also shown a video which showed two men wearing hi-viz Ferry Waste jackets digging holes with a track digger and then dumping rubbish into them before covering them over.
Later that day, another employee of Ferry's Refuse, Paul Gallagher, approached council officials asking to have the vehicles back.
The court also heard that Ferry, of Rossbracken, Manorcunningham, ignored an order to remove the remaining waste from the site and that it is still present there.
The case was interrupted when a man entered the court and handed a letter to the barrister for Mr Ferry, Sean Gillane, SC.
The letter alleged that the man, an unnamed employee of Mr Ferry, was connected to the illegal dumping of the waste.
The letter was later given to sitting Judge Paul Kelly but the unidentified man has not yet given evidence.
Mr Gillane made a submission to the court that his client could not be found guilty as there was no direct proof that his client had personally dumped the rubbish.
Submissions were also made in relation to dates and times of the summonses and also that one summons did not have the year on it.
Barrister for Donegal County Council, Richard Lyons, SC, said inferences should be drawn from all the evidence including the fact that men wearing Ferry Refuse hi-viz vests were on his land.
"I think we would be living in a total air of unreality if the court didn't draw an inference.
"It would be unreal to suggest that an employee could get a key and then of all places dump it on land owned by Mr Ferry," he said.
Judge Paul Kelly retired to consider the legal submissions for more than an hour before giving his decision.
He decided that Mr Ferry still had a case to answer in all but one of the nine charges.
The case resumes again tomorrow.
Tags: