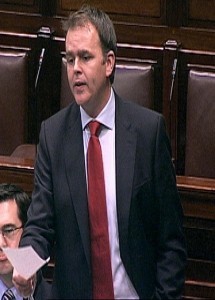 Fine Gael TD Joe McHugh has made a strong pitch for Government investment in an upgraded Cockhill Bridge.
Speaking in the Dáil today during debate on public expenditure with Brendan Howlin TD, Minister for Public Expenditure and Reform, Deputy McHugh said: "Reviving the Irish economy requires significant investment in Capital projects.
"The Government expects that the country's EU/IMF/European Central Bank bailout programme will end next year. At this point, Minister Howlin and the Government need to be making strong arguments to the Troika for heavy spending on Capital projects, because infrastructure investments are necessary for driving economic recovery throughout the country.
"The construction of a new Cockhill Bridge outside Buncrana is a priority capital project. The Cockhill Bridge is a key transport link for Buncrana and for north Inishowen.
"t needs to be upgraded. Donegal County Council is preparing design and tender documents for the construction of a new Bridge, together with land procurement and approach road upgrades. Planning Part 8 is currently underway. It is a €4.5m project and I am calling on the Government to ensure that Cockhill Bridge is prioritised as a key Capital project worthy of funding."
Responding, Minister Howlin said: "I acknowledge Deputy McHugh's case for capital investment in the project. I would like to see maximum capital investment. I will look into his proposal."
The need for a new Cockhill Bridge was discussed in detail at a meeting of the Inishowen Fine Gael District Executive attended by Deputy McHugh, which took place last Monday evening at the Strand Hotel in Ballyliffin.
Tags: