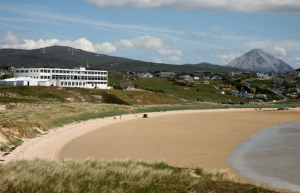 A TEN-year-old boy has been awarded more than €5,000 in court today – for cutting his knee.
The settlement relates to an incident at Ostan Gweedore Hotel three years ago.
Barrister Patricia McLaughlin told Donegal Circuit Civil Court, sitting in Letterkenny today, that the child had arrived at the hotel on July 12, 2009 with his mother and sister.
Whilst the child's mother was locking the car, her son fell on grass in the grounds of the hotel and cut his knee.
Judge Petria McDonnell was told that the hotel management were not told of the incident at the time.
"The first they knew of it was a letter which arrived a year later," said Ms McLaughlin.
The hotel, she said, was not accepting liability but was prepared to settle the claim.
It was still not clear, said the barrister, how the cut came about but the boy had to receive eight stitches for a wound to his knee.
"There are no long term effects and the boy in fact wears the scar as a badge of honour I'm told," said Ms McLaughlin.
She said the hotel had made a low all-in offer to the boy which totalled €6,000 to cover costs and the injury and the boy would receive €5,059.90 as part of the settlement.
Tags: