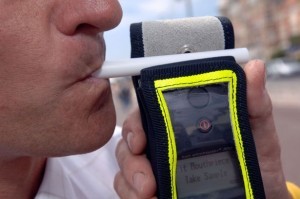 A DRINK driver sprayed so much mint freshener into his mouth, it wrecked the breathalyser machine at a Garda Station, a court has heard.
Michael Bonnar, from Rareagh, Letterkenny, was stopped by a Garda patrol at Oldtown close to midnight on January 11, 2012.
Garda Elaine Gordon told the District Court that she stopped Bonnar because she noticed he wasn't wearing a seatbelt.
She arrested him on suspicion of drinking and driving after smelling alcohol on his breath.
However a bizarre incident took place at Letterkenny Garda Station later that night.
Bonnar, she said, had been told not to take any food or drink and not to smoke for a period of 20 minutes before a breath test was due to take place.
Just before Bonnar was due to give the breath specimen, Garda Gordon said he turned away from her and sprayed something into his mouth.
She told Judge Paul Kelly that she knew straight away it was a mint spray "because you could smell it everywhere."
The garda confiscated the spray – the main ingredient of which was alcohol – and it was produced in court in evidence in a charge against Bonnar of obstructing justice.
Garda Gordon said Bonnar had claimed he needed the spray for medical reasons as he had difficulty breathing.
When he did blow into the device "the machine froze" said the garda.
"It just stopped working," she said.
Defence lawyer Niall Sheridan contested that charge and a charge of drinking and driving.
A blood sample later given by Bonnar because he broke the breathalyser – which had a reading of 225ml alcohol/200ml of blood – led to the drink driving charge.
Mr Sheridan had argued that a date written on the blood sample at the Garda Medical Unit was January 2010 and asked for the case to be struck out because of this error.
He also argued that the obstructing justice charge should be thrown out as his client had taken the spray as a medicine and had informed Gardai that he had a medical condition beforehand.
Judge Kelly struck out the obstruction charge but found Bonnar guilty of drink driving, ruling that the blood sample was clearly his as his name was marked on it and it was taken on the night of January 11/12, 2012.
Upon conviction Inspector David Murphy told the court that Bonnar had a previous conviction for drink-driving in 2005.
Judge Kelly banned Bonnar from driving for three years and fined him €350.
Tags: