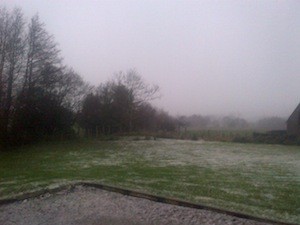 STORMWATCH UPDATE: FURTHER heavy falls of hail, sleet and snow are hitting Donegal this afternoon – with ice predicted on all roads overnight.
Gardaí have issued an urgent warning to motorists to take extreme care.
There have been a number of minor traffic crashes in Donegal today due to the road conditions.
One hail storm is currently moving east to west across the county.
Said a Garda spokesman: "We would urge motorists not to drive unless absolutely necessary and where people are out and about this evening, they should drive with extreme care.
"Roads, particularly in rural areas and in housing estates in towns, are very slippery and with ice expected to form after dark, this will make conditions more hazardous."
Donegal County Council gritting lorries are treating main routes.
BBC Northern Ireland and Met Eireann says there will be more wintry showers tonight before cloud clears and temperatures drop.
A new gale will sweep into Donegal around 10am on Friday.
Tags: