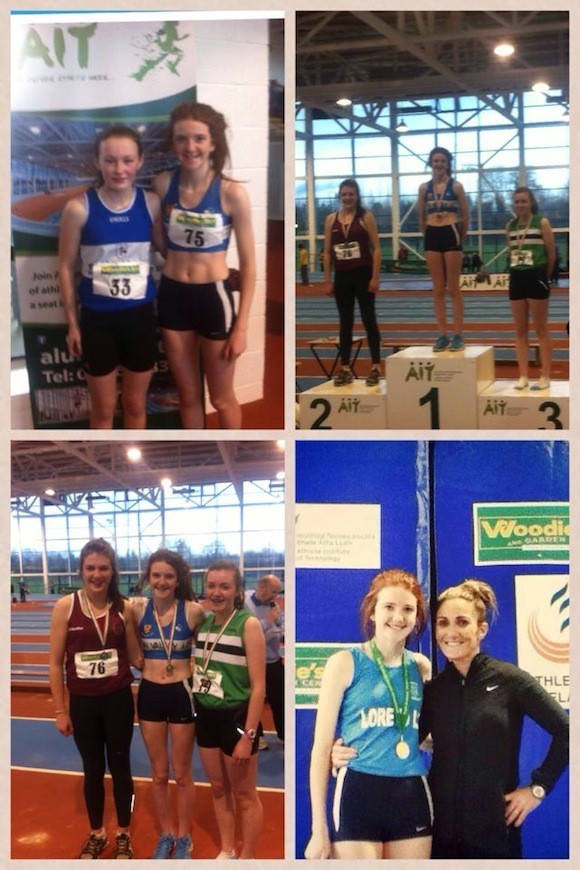 Finn Valley AC athlete Arlene Crossan in the Autumn of 2013 won the Irish schools combined events indoor title going on to lead the Irish Schools team in Glasgow.
She continued to work hard with her coach Shauna Carlin and training group culminating in an impressive return in the Irish U-16 championship at Athlone IT on Saturday.
Opening with a 5.34m long jump, followed with a winning hurdle personal best in a fluid 9.45  and up next was the high jump over at 1.59m close at 1.62m,a personal best and much improved 3kg shot tp 8.55m and a winning 800m showing at 2.23 a total of 3414 points which translates as a noteworthy performance.
The Loreto Convent student will now face into 2014 with renewed confidence as she continues to work at improving technically and with coach support from former national long jump champion Shauna and former Irish record holder and champion Sean Carlin the future looks bright.
Aine Kerr Convoy,also from that same training group was in a medal position going into the final event the 800 in her age group but the wheels came off in the last laps but there is no doubting her potential and medal possibility in the months ahead.
Tags: