Three women have been remanded in custody after Gardai uncovered a cannabis growhouse above a Chinese restaurant in Ballybofey.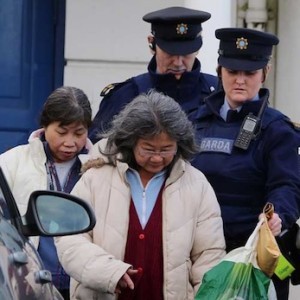 The three women, two from Malaysia and one from China, include a mother and daughter.
A fourth person, a male in his 30s, who was also arrested is still being questioned at Letterkenny Garda station.
However, Gardai have admitted they are still searching for processing premises which they believe the drugs were being shipped to once they were grown and cut.
The court appearances come following a Garda raid on the Lee Ho takeaway in Ballybofey on Tuesday evening.
Mature and young plants with an estimated street value of €360,000 were found in locked rooms along with growing apparatus.
The three women were named as Sam Pohs Ooi, 62, her daughter Chong Li Jiuan, 28, from Malaysia and Mei Ling Chen from China.
Ms Chen told detectives she had been in Ireland for 20 years and the €6,000 found in the restaurant was her savings from that time.
All three were charged with possession, having cannabis for sale and supply and cultivation.
Garda Inspector Goretti Sheridan told the court that she was objecting to bail as all three women represented a serious flight risk.
She revealed that two of the women had flown from Kuala Lumpur to Heathrow Airport and then to Belfast before being taken to Co Donegal adding there was no reason they couldn't make a return journey.
However solicitors Patsy Gallagher and Frank Dorrian said the women had no form of income and both Ms Jiuan and Ms Ooi were willing to hand over their Malaysian passports.
After hearing submissions, Judge Paul Kelly said he was remanding them in custody because of the seriousness of the alleged offence and that they pose a flight risk.
Garda Detective Niall Boyle said the plants were only being grown and cut in the premises on Navenny Street in Ballybofey but had still not found the premises where the plants were being dried and processed.
He said he had monitored the Chinese Takeaway for four hours on one occasion and it did not have one customer.
The women will appear again by video-link next Monday.
Tags: