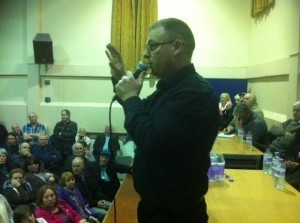 VOLUNTEERS have begun carrying out night time patrols in a bid to protect elderly people from further attacks.
The community alert scheme has started operating in parts of east Donegal following a massive public meeting in Manorcunningham last week.
Tony Morning says it's the only option left to local people following a spate of burglaries in which elderly people were threatened.
In some of the cases older people were threatened with knives.
Mr Morning, who has called for the Defence Forces to be deployed to take on criminals, says patrols are now checking on people living alone to reassure them.
He called on Taoiseach Enda Kenny to "spend a couple of nights" with an elderly person attacked by burglars to see for himself the fear that is now within the community.
"I'd love to meet Mr Kenny, tell him what is going on here and invite him to come and spend a couple of nights with one of these poor victims to see for himself the dreadful results of what these criminals have done," he said.
Tags: