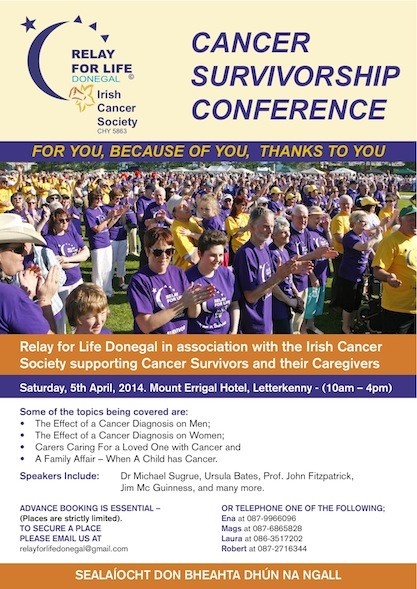 The Relay for Life Donegal 2014 committee are delighted to announce that they will host an inaugural Cancer Survivorship Conference on the 5th April 2014 in The Mount Errigal Hotel, Letterkenny, Co. Donegal.  
Relay for Life Donegal is more than just a fundraising event.
In addition to providing the Irish Cancer Society with the finance to fund numerous vital cancer services, the committee also aim to offer vital information and support networks.
The committee feel that this is necessary due to the fact that 1000 people each year in Donegal hear the words 'YOU HAVE CANCER'.
Cancer survivors are central to every Relay for Life Donegal decision being made and every Relay for Life Donegal event being held, as cancer survivors are Relay for Life Donegal's VIP's.
This conference has been organised to highlight Relay for Life Donegal's commitment to all cancer patients and their families.
The conference title is "LIVING BEYOND CANCER – SUPPORTING CANCER SURVIVORS AND THEIR CAREGIVERS"
The theme of the event is "FOR YOU, BECAUSE OF YOU, THANKS TO YOU"
This conference is FOR YOU if you have been impacted by a cancer diagnosis.
The conference is BECAUSE OF YOU, because of the 1000 people diagnosed with cancer each year in Donegal.
BECAUSE OF YOU we need to keep you updated and informed.
BECAUSE OF YOU we need to create awareness of how we can help ourselves.
BECAUSE OF YOU we are determined to find a cure for cancer.
It is THANKS TO YOU, that we, the Relay for Life Donegal committee can host this conference for your benefit.
It is THANKS TO YOU that we are committed to supporting all who are impacted by cancer in Donegal.
It is THANKS TO YOU for supporting Relay for Life Donegal which now affords us the opportunity to bring all this expertise together to support you back in return.
Attendance at the conference is limited and free (including lunch) to all those who attend.
As attendance is limited and no registration will take place on the day of the conference, it is essential to register in advance to avoid disappointment.
In order to register your interest in attending and secure a place at Donegal's first Cancer Survivorship Conference on the 5th April 2014 email us at relayforlifedonegal@gmail.com, or alternatively telephone one of the following, Ena at 087 9966096, Mags at 087 6865828, Laura at 086 3517202 or Robert on 087 2716344.
Tags: