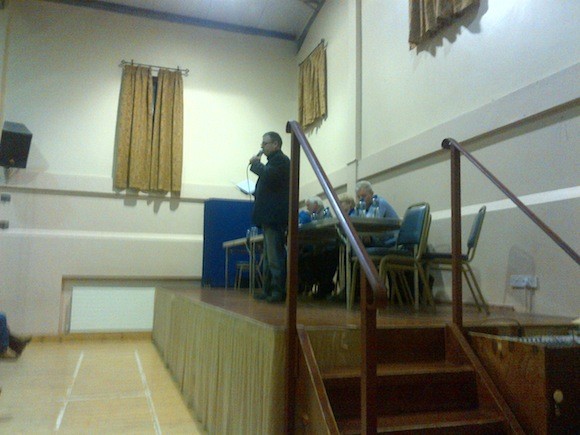 DONEGAL'S close knit communities will fight back against the burglars, a public meeting heard last night.
More than 900 people packed inside the resource centre in Manorcunningham to hear advice from Gardaí about recent burglars in east Donegal.
But a suggestion from Donegal County Councillor Ciaran Brogan could turn the fightback against crime into a county-wide effort.
It follows text alert schemes in Glenties and Ardara, supported by Gardaí.
Cllr Brogan took to the stage to suggest that there should be a "a leader in every townland" who could form part of a unique text alert scheme.
And now communities from across Donegal are being invited to another meeting in Manor next Monday (at 9pm) to learn how the warning system will work.
Local businessman Tony Morning revealed that money collected two weeks ago had been used to fit alarms and security lights in the homes of seven elderly people. Orbit Security had fitted them at cost price, whilst Sheridan Security and North West Alarms had now also offered to do the same for future jobs.
Brimac Security were also heavily involved in the supply and fitting of the alarms and security lighting for concerned pensioners at cost price.
Lifford-based Sgt Maurice Doyle gave advice to people at the meeting about what they could do with the Text Alert scheme.
But he said this was to report suspicious activity; anyone who saw a crime being committed should dial 999.
Meeting chair Jim Devenney said he had done just that last Monday.
"I don't want to go into the detail, but two Garda cars were at the scene within seven minutes," he said.
One local man wanted to know if he could shoot someone stealing a trailer from his farm.
However Gda Doyle said only reasonable force could be used and he "strongly advised" against such actions; another speaker asked if he was allowed to slap someone if he saw them on premises illegally.
After Cllr Brogan's suggestion, people queued up to give their details and volunteer as Text Alert members for their town lands.
Mr Morning said: "This can be used right across the county. If someone is in Kilmacrennan or Convoy or wherever they are welcome to come along next week.
"This cannot be done by a few. The whole community needs to get involved."
He also said he wanted to make it clear that some names were being used in relation to attacks on elderly people in the area.
"This has to stop," he said.
"I have been approached by some people who say they are completely innocent but rumours have started and their names used. We cannot allow this to go on. We need to leave that to the Gardaí. People are innocent until they are proven guilty in court. I want this to stop immediately."
Another Manor man said the anti-crime initiative needed to be widened.
"Everyone here knows what I'm talking about. We live beside a main road and four or five nights a week, in the middle of the night, up to 15 cars are screeching and racing up and down the road for an hour. We need to tackle anti-social behaviour as well," he said.
He said the noise might not frighten younger people like him but would terrify elderly people.
Tags: