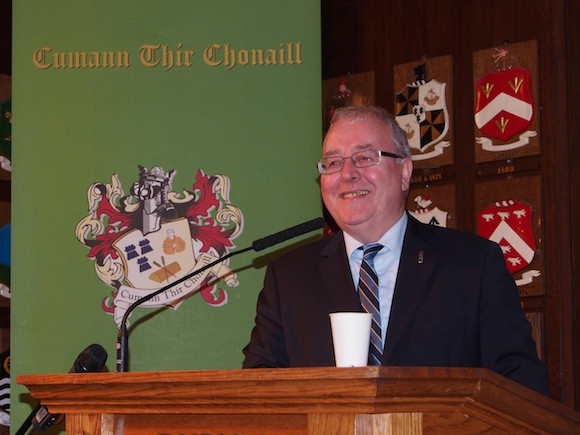 Excitement is building for the Donegal Person of the Year Gala Ball that will take place tomorrow night, Saturday 1st March at the Regency Hotel, Dublin.
This year's popular winner Liam Ó Cuinneagáin will be inaugurated on the night. There has been huge interest from the locality of Glencolmcille & surrounding areas of southwest Donegal and also from many past students situated all over the worLd who previously attended Oideas Gael.
Liam has been a true champion of the Irish language throughout his career. Liam spent over twenty years as a primary teacher and school principal in Dublin and has taught Gaeilge to both adults and children.
An ever-increasing interest in Ireland's culture, particularly in North America and in Europe, has made Gleann Cholm Cille, Southwest Donegal, the holiday destination of choice for adult Irish language learners and cultural holiday enthusiasts.
This year alone the courses offered will attract people from over 30 different countries with participants from several different nationalities attending each week.
Liam said "that students and adult participants come from all over the world including San Francisco, LA, Moscow and all the major US Universities including New York University, Harvard College and University of Notre Dame, Indiana. Our teachers go to those places to teach weekends and weeklong courses. We are teaching a course, at present, in the University of Vienna".
Oideas Gael caters for adults of all ages, beginners and more advanced Irish speakers and all nationalities. The holiday courses focus on spoken Irish for adults and incorporate a structured approach to teaching, presented in a stimulating but relaxed environment, with the result that participants make progress way beyond their expectations.
One past student (Audrey Nickel) even quoted how her dream vacation changed from two weeks at Club Med to two weeks at Oideas Gael after she spent some time there during the summer of 2008!
Not only has Liam focused on the Irish language in his local community but he has promoted culture, tourism and local traditions.
Oideas Gael offers a variety of activities over the summer including Hill-walking (including a hike on Sliabh a'Liag), Archaeology, Marine Painting, Landscape & Environment, Digital photography, Tapestry weaving, Harp, Flute and Bodhrán. Indeed, these activities are held in such high regard that in the National Geographic Top 10 Historic Sites in Ireland and Northern Ireland, they quote, "The best way to learn about the 5,000 years of history here is to attend the weeklong archaeology school offered in August by Oideas Gael and led by eminent archaeologist Michael Herity".
According to Liam Ó Cuinneagáin, the cosmopolitan mix in the 'The Glen' this year will be given a boost due to Tourism Ireland's promotion of the 'Wild Atlantic Way'. The Glen will continue to live up to its image as the lively centre of cultural activity that it has become over the years, with the best of traditional music, craic and hospitality.
Liam is considered by many people as a modern Fr. McDyer through his work in promoting the Irish language, culture and bringing employment to his beautiful but isolated area of Gleann Cholmcille. It is now time for the people of Donegal and afar to honour Liam for all his relentless work over the years. Liam Ó Cuinneagáin will be inaugurated as The Donegal Person of the Year 2013 at the Annual Gala Ball on Saturday 1st March in the Regency Hotel, Drumcondra, Dublin 9. This promises to be a very special night with tickets selling fast for this special event! Order your tickets now so you don't miss out! Tickets are limited so please contact Public Relations Officer at 087 2439317 to reserve your tickets.