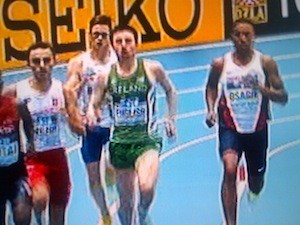 DONEGAL athlete Mark English had a sensational run in the World Indoor Championships today – but missed out on a final place.
The Letterkenny AC man, who will be 21 later this month, was in the third of three heats in the Ergo Arena in the Polish seaside town of Sopot.
He was also up against runners with better Personal Best times.
Mark's best time before today's race was 1.46.82 – a new Irish indoor record which he set in Athlone last month.
He finished fourth in his heat – in 1.47.60 – but had been in second at one stage – and was clipped twice by other athletes during the gruelling run. He was a second outside the qualifying time as a fastest loser for this Sunday's final.
But he can take a great deal of heart out of today's run.
Earlier the Donegal man had told the Irish Independent that he remained focus on succeeding.
"My motivation in athletics is always to get the most out of myself, not to make other people happy," he said.
The full interview is here:
http://www.independent.ie/sport/other-sports/athletics-focused-english-taking-swift-progress-in-stride-30070790.html
Tags: