MENS FOOTBALL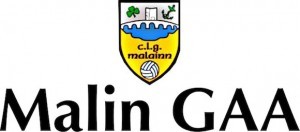 Our Senior footballers suffered their third defeat in as many games going down 1-6 to 2-14 to Four Masters in Connolly Park on Sunday. The reserve side also were on the wrong end of a 4-14 to 0-3 scoreline.
LADIES FOOTBALL
Ladies Senior Training continues on Tuesday and Thursday from 7:30pm to 8:30pm. Training sessions are now held outside and all players are asked to bring the outdoor gear, boots ect. This year the ladies will enter Division 4 in the League & the Junior B Championship, the season gets underway in the next few weeks when Lifford travel to Connolly Park. All new players are welcome to attend.
CLUB SHOP
The Malin GAA club shop will be open in the clubhouse on Saturdays from 12-2 and on Sundays from 11-15 to 2-00. There are a large selection of club merchandise in stock, which can be purchased on the day. A list of other club gear, hoodies, rain jackets, shorts, socks, hats, scarves, kit bags etc are also available to order. The Malin half zipped training tops sponsored by Mark Monagle of 4Mark Construction are also available to order and are proving very popular. Club vouchers are now also available and would make an ideal birthday present, or for any occasion. For more details, contact Susan on 07493 70638.
DRAW WITH A DIFFERENCE
The club draw is now in full swing, with the big night just weeks away. Ticket sellers will be travelling the parish and surrounding areas in the coming weeks. We would urge everyone to please support the draw as proceedings will go towards the refurbishing of the new club gym. Remember there are some wonderful prizes on offer……"Pure Bred Charolais Heifer" worth €2000….or the cash equivalent…… "Pedigree Suffolk Ram Lamb" worth €1000….or again, the cash equivalent.
…… A weekend for 2 in Luton, with return flights, accommodation, breakfast and an evening meal………€500 cash…….. or a weekend for 2 in the Ballyliffen Lodge.
Tickets cost just €10 or 3 for €20.
Draw will take place on Sunday May 4th 2014 in the GAA Centre.
For more information contact John Byrne on 086 2507380, Patrick Houten on 086 8988506, David Gallagher on 086 8073786 or Martin Mc Colgan on 086 2938634.
CONDOLONCES
The club would like to offer their most sincere condolences to the family of Harry Mc Gilloway on their recent loss. The Mc Gilloway family have been heavily involved with our club at various levels through the years. May he rest in peace.
EASTER CAMP
Our Annual Easter Camp will begin this Wednesday 23rd of April & run until the 25th of April for Children aged 5- 13 years old. This three day Easter Camp was very successful last year with 100 Children in attendance. With qualified coaches & Camp Coordinator Charlie Byrne this Easter Camp is sure to a big success. The Camp will run from 10am -2:30pm each day, we would ask that Children bring a lunch, bottle of water & suitable out door clothing, Each child will receive a O' Neills Football & A Easter Egg for their participation in the camp.
LOTTO
There was no winner of this weeks lotto jackpot of €500. The sequence drawn was
1-6-2-7-5-3-4. The 50 euro winner was D.E Prior, Manchester. Next weeks jackpot stands at a whopping €550 and as always we would like to thank the local community for their continued support of our weekly lotto draw. Envelopes are just €2 or 3 for €5 euro and are available in most pubs and shops in the area or alternatively from our band of young eager sellers. Just select the numbers 1-7 in the correct order to be in with a chance of scooping the jackpot.
Tags: