The 27th MS READaTHON is approaching and schools in County Donegal are encouraged to sign up for a month of reading to directly support people with multiple sclerosis locally.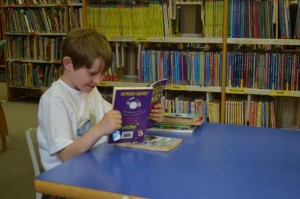 MS Ireland have said a big 'thank you' to the young MS READaTHONers, teachers and principals in 24 schools across Donegal who helped raise funds for vital local services last year.
An estimated 8,000 people have MS in Ireland, with thousands more family members affected. Multiple sclerosis is a chronic, often disabling disease and is the most common disabling neurological condition affecting young adults in Ireland.
MS READaTHON school ambassadors, local people living with MS, will visit schools as part of the campaign to help students understand more about the condition.
MS READaTHON is the key annual fundraising campaign of Multiple Sclerosis Ireland, the services, information and research organisation supporting people affected by MS. MS Ireland is saying a big 'thank-you' to 24 schools in County Donegal who participated last year. The students joined more than 14,500 young readers across Ireland in the MS READaTHON to raise funds for vital local services.
Schools around the country will be contacted by MS Ireland from the beginning of September, with information brochures and entry forms to sign up for MS READaTHON 2014. The 27th MS READaTHON reading month will take place for one month from October 10th to November 10th 2014.
Please visit www.msreadathon.ie to find out more, check out reading lists, book reviews, competitions and content from Irish authors. Irish authors including Cecilia Ahern, Sarah Webb, Eoin Colfer, Derek Landy, Oisin McGann, Nicola Pierce, Marita Conlon McKenna and Darren Shan support each year with tips and advice for young readers and budding writers.
Paul Dietrich, MS READaTHON manager commented: "The longest running sponsored schools reading campaign is coming around again and we want to say a big thank you to the students that took part last year and their families, teachers and principals. Funds raised by these young readers directly benefit people with multiple sclerosis locally, enabling one-to-one support for those newly diagnosed or struggling with their MS; physiotherapy and exercise classes to help stay independent; and respite to help the person recharge and to give their family a break from providing around the clock care. The other great part of MS READaTHON is that it's an opportunity for children to immerse themselves in reading, finding great authors and stories and improving their literacy skills at the same time."
To help young readers in County Donegal to get their reading lists ready, here are some of MS READaTHON's favourite books:
For 5-8 year olds: The Cat in the Hat by Dr Seuss; Mad Grandad and the Mutant River by Oisin McGann; The Secret Seven by Enid Blyton; The Legend of Captain of Captain Crow's Teeth by Eoin Colfer; The Minpins by Roald Dahl; The Adventures of Captain Underpants by Dav Pilkey; The Butterfly Lion by Michael Morpurgo; Famous Five series by Enid Blyton; Horrid Henry's Sleepover by Jacqueline Wilson; My Naughty Little Sister Collection by Dorothy Edwards; The Sheep-pig by Dick King-Smith; The Giggler Treatment by Roddy Doyle; Judy Moody by Megan McDonald; Mr Gum and the Biscuit Billionaire by Andy Stanton; A Cat Called Penguin by Holly Webb; Pippi Longstocking by Astrid Lindgren.
For 8-11 year olds: Artemis Fowl by Eoin Colfer; The Boy in the Striped Pyjamas by John Boyne; Gangsta Granny by David Walliams; Armageddon Outta here by Derek Landy; Hagwitch by Marie-Louise Fitzpatrick (CBI Book of the Year Award 2014 winner); The Famine Trilogy by Marita Conlon McKenna; Diary of a Wimpy Kid by Jeff Kinney; Wonder by RJ Palacio; Harry Potter and the Goblet of Fire by JK Rowling; Skulduggery Pleasant by Derek Landy; The BFG by Roald Dahl; Charlotte's Web by EB White; The Butterfly Heart by Paula Leyden; St Clare's by Enid Blyton; Hetty Feather by Jacqueline Wilson.
11 plus and teenagers: Ask Amy Green series by Sarah Webb; Skellig by David Almond; The Real Rebecca by Anna Carey; Divergent by Veronica Roth; The Fault in Our Stars by John Green; Looking for Alaska by John Green; The Gone Series by Michael Grant; Brilliant by Roddy Doyle; Sweet Honey by Cathy Cassidy; The Hunger Games by Suzanne Collins; The Outsiders by SE Hinton; The weight of Water by Sarah Crossan; A Greyhound of a Girl by Roddy Doyle; Northern Lights by Philip Pullman; Zom-B by Darren Shan; The Graveyard Book by Neil Gaiman; The Hobbit by JRR Tolkien.
Must-read children's classics include: The Secret Garden by Frances Hodgson Burnett; The Railway Children by E Nesbit; The Wind in the Willows by Kenneth Grahame; and Little Women by Louisa May Alcott.
For participating schools around the country, the 27th MS READaTHON will provide:
· Individual gift or certificate for each reader
· School and Library awards
· 10 per cent of the money raised goes back into much needed resources for each participating school
· The "Great Teacher Holiday draw"
Tags: