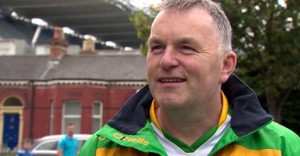 BREAKING NEWS: NAOMH Conaill have nominated a Tyrone man to be the next manager of the Donegal Senior Football team.
The Glenties club have put forward the name of their former manager Cathal Corey to take the county manager's role.
Mr Corey, a father of three who works as a sales rep for a national stove company, was the joint manager of Naomh Conaill with Jim McGuinness in 2009.
The coach – nephew of Derry manager Brian McIvor –  took the club to the county title and an Ulster final against Crossmaglen in 2010.
He is highly respected in the game, and in particular by Jim McGuinness.
Up until now former Donegal No2 Rory Gallagher was being seen as the front runner for the position but Corey's nomination is being seen as an 'exciting' development.
His dedication to Donegal could be seen in an AIB promotional video taken on the day of the All-Ireland Final last month when he refused cash for his club in return for tearing up his match ticket.
But he said he felt duped afterwards after the video appeared to show him rejecting the money.
He said he was offered just €500, not €2,000, and that the video left out his offer to make the donation himself.
He said he received abusive messages afterwards.
"I said to him: look, I don't have much money, but I'll give my club €500 out of my own money, but I want to go see the match here today," said Corey at the time, saying he was personal friends with McGuinness, Leo McLoone and the Thompson brothers.
"They were friends of mine, and I wanted to go to that match. Leon Thompson offered me the tickets – they were their tickets they got for their family and good friends, and I didn't want to miss the game."
But instead, he said the video (below) seemed to show him rejecting €2,000 for his Tyrone club so he can see Donegal play.
Cathal said he thought nothing more of it until the following Tuesday, when he received a text message from a friend telling him he was right not to rip up his ticket. He had not seen the video that that point.
"The second that I watched it and seen them giving your man a cheque for €2,000 I knew … the way people were going to be."
"It made it look like they had offered me and the other four or five people €2,000 – but that wasn't the case. I knew I was going to get s***."

Tags: