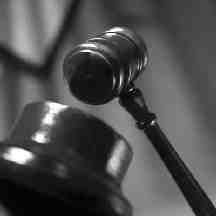 A MAN who suffered an appalling childhood and went on to stab a friend nine times in a frenzied attack using a 10 inch kitchen knife has been given a suspended prison sentence after a judge heard how he was trying to rebuild his life.
Daniel 'Skippy' McLaughlin, from Glentogher outside Carndonagh, was battered and abused by his drunken mother.
One one occasion he was beaten when he tried to feed a brother who was deliberately starved by their mother. The same sibling had superglue put on a wound after being beaten by her.
Sentencing in the knife attack was adjourned from last year to allow social workers and psychiatrists to assess McLaughlin.
Garda Declan Lambe told Judge John O'Hagan how he was called to reports of a disturbance at Miller's Way in Carndonagh on September 30th, 2011. Mr McLaughlin's friend Andrew Drury had earlier made a 999 call.
Garda Lambe entered the house and found Mr Drury sitting on the stairs, directing him to the kitchen.
He said Mr McLaughlin was in an agitated state and covered in blood and demanding to know if there was a search warrant.
The garda said he entered the kitchen and saw a large bread knife covered in blood. He looked down and saw Brian McLaughlin Logue lying on the floor covered in blood. The stab victim was rushed to hospital with life-threatening injuries.
When interviewed, Daniel McLaughlin said he didn't remember what had happened. "I must have flipped, I went clean mental," he told gardaí.
He remembered a fight on the street outside but not the stabbing. "Why that happened I don't know; I went bananas, I went nuts," he said.
Mr McLaughlin's brother Enda made international headlines two years ago when he stabbed three people in Germany before being struck and killed while crossing a motorway.
Reading from expert reports, Peter Nolan, barrister for Daniel McLaughlin said the McLaughlin children had been subjected to "physical abuse and torture by their mother when they were young".
Their father Patrick, who was away working in Dublin most of the time, had not been aware of the situation at home, said the social worker.
Elizabeth McLaughlin, who died in a house fire in 2010, would pick on another sibling Jonathan.
"She once used glue to stop bleeding from a wound. She deliberately didn't feed him; she starved him. And she punished Daniel when he tried to feed his brother."
Since last year, said Mr Nolan, Daniel McLaughlin had just one relapse with drink and he was arrested for trespass.
However he had not been in trouble since. He praised a neighbour who had stepped in to try to raise the McLaughlin children when they were abandoned by their mother.
In a victim impact statement Brian McLaughlin Logue said his life had been changed by the attack by his friend.
He said he suffered traumatic physical and mental health issues. He was no longer able to straighten his arm after bones were chipped in the attack.
"A part of me died that night," said the victim.
"I had done nothing wrong apart from being a friend. I don't feel I can trust anyone any more. I have constant nightmares, constantly haking when I am around people. I have pains in my lung from the injuries and I can no longer part-take in what I used to love, reading and art. I suffered damage to my hand where tendons were slashed.
"Nine times I was stabbed. My muscles are now like jelly."
Judge John O'Hagan said the case was "extremely sad".
He said the incident had been horrific for the victim.
However there were positive reports on Daniel McLaughlin from experts who were satisfied that he is aiming for sobriety. It was clear, said the judge, that more can be achieved by continuing to treat him in the community but he needed to use a deterrent to ensure this could happen.
He noted that Daniel now had a girlfriend and would soon become a father himself.
"Perhaps that too will settle him down," said the judge.
"I hope the experience of fatherhood is more rewarding than the experiences he has had in his own life in the past."
Judge O'Hagan said he wanted to use a deterrent to make sure Daniel McLaughlin remained under the eye of the courts and care workers.
He jailed McLaughlin for three years, and suspended the sentence for three years on a number of conditions.
These included that McLaughlin should not to be convicted of any offences contrary non-fatal offences against the person act, that he complete a 12-month supervision order from the probation service, submit to and comply with ongoing care and treatment with the HSE mental health services and abstain from all alcohol and illicit substances.
Tags: