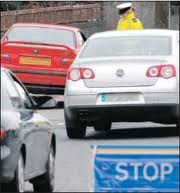 A DONEGAL farmer originally fined €5,000 for driving his jeep with illegal green diesel has had has conviction overturned on appeal.
Jeffrey McKinney, from Knockbrack, Letterkenny, had admitted having the illegal fuel in his vehicle when it was checked by Customs officers in August 2013.
But he told Judge John O'Hagan at a District Court Appeal at the Circuit Court that he didn't know there was agricultural diesel in his Nissan Jeep because his brother had accidentally put the wrong fuel in the vehicle the night before.
Mr McKinney, represented by specialist Dublin tax lawyer John McLaughlin, told how he had called his brother from the joint garda/revenue checkpoint to make sure he had filled his jeep with the correct diesel.
His brother Keith told the judge that he had never filled vehicles at the farm before.
He said he had taken a call from his brother the evening before asking him to fill the jeep with diesel as he had to go to the Raphoe Mart the next day.
He said there were two diesel tanks in the family farmyard, one with green diesel for the tractors and one with white diesel for road vehicles.
Keith McKinney said it had been his mistake in using the wrong diesel. He says he told Customs this in a letter a few days later.
Defence counsel Mr McLaughlin argued that Jeffrey McKinney hadn't knowingly used the green diesel as set out in the legislation and he wasn't reckless in using it. He said there was no criminal intent on behalf of his client.
Judge John O'Hagan said farmers should clearly mark the outside of their fuel tanks in their farmyards to prevent a repeat of this incident.
He said he accepted Keith McKinney's evidence however and that there was no criminal intent on the part of his brother to knowingly use a vehicle fuelled by green diesel.
He overturned the conviction.
Tags: